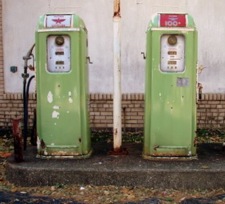 There's a bill in the state Senate that would require all new cars sold or leased in New York to come with a sticker that lists the autos' gallons-per-mile. Yep, that's gallons-per-mile -- not just miles-per-gallon.
So, why GPM?
It turns out that it's easier for people to make decisions about fuel economy based on gallons-per-mile rather than miles-per-gallon, according to research by Richard Larrick and Jack Soll, two Duke professors. From a post on the professors' blog, The MPG Illusion:
MPG tricks people's perceptions. Replacing a car that gets 14 MPG with a car that gets 17 MPG saves as much gas for a given distance as replacing a car that gets 33 MPG with a car that gets 50 MPG (about 1 gallon per hundred miles--see this table). MPG obscures the value of removing the most inefficient cars. As the GPM table shows, a 14 to 20 MPG improvement saves twice as much gas as a 33 to 50 MPG improvement.
"Gallons per 100 miles" or "Gallons per 10,000 miles" (GPM) corrects these misperceptions. These gas consumption measures should be provided by consumer sites to supplement information about MPG. And GPM makes clear that policy should be focused on replacing the most inefficient cars.
Or, here it is a different way, from a press release about the research:
nspired by debates they had while carpooling in a hybrid car, management professors Richard Larrick and Jack Soll ran a series of experiments showing that the current standard, miles per gallon or mpg, leads consumers to believe that fuel consumption is reduced at an even rate as efficiency improves. People presented with a series of car choices in which fuel efficiency was defined in miles per gallon were not able to easily identify the choice that would result in the greatest gains in fuel efficiency.
For example, most people ranked an improvement from 34 to 50 mpg as saving more gas over 10,000 miles than an improvement from 18 to 28 mpg, even though the latter saves twice as much gas. (Going from 34 to 50 mpg saves 94 gallons; but from 18 to 28 mpg saves 198 gallons).
Duke has an interactive comparison chart for GPM that uses actual car models.
That bill in the NY Senate made it out of committee this week -- but it doesn't have a counterpart in the Assembly. [AP/CBS6]
photo: Flickr user x-eyedblonde
Say Something!
We'd really like you to take part in the conversation here at All Over Albany. But we do have a few rules here. Don't worry, they're easy. The first: be kind. The second: treat everyone else with the same respect you'd like to see in return. Cool? Great, post away. Comments are moderated so it might take a little while for your comment to show up. Thanks for being patient.