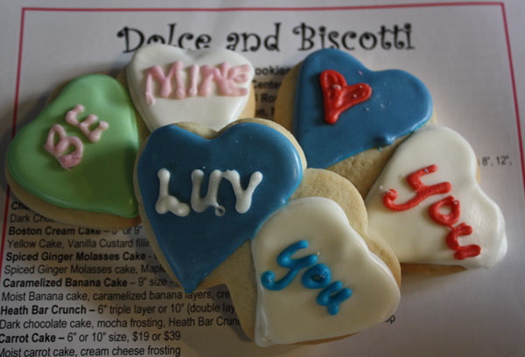 By Kaitlin Resler
Valentine's Day is nearly here! This means candy, lots of pink and red things, frivolous and sometimes-almost-too adorable paper goods, dinner reservations, flowers and all manner of stuffed animals propped in store windows. Oh... and, you know, letting the people in your life know that you love them.
After all the fuss of the biggest winter holidays has died down, Valentine's Day is a funny little break from the every-day. It's a little bit of warmth in the otherwise totally freezing, month of February.
Lots of Capital Region shops have their share of hearts and flowers but here are four of my favorite local ways to do something special for Valentine's Day.
What are your favorites?
Make Your Own Valentines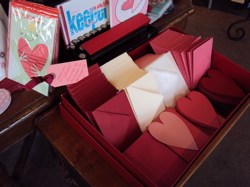 There is something quite nice about home-made Valentine's, and every year I plan to make my own and then don't. If you haven't got construction paper, or some better variant, lying around Paper Dolls of Saratoga has come to your assist! They have nice little pre-cut hearts and decorating accoutrement for your Valentine-making needs -- for practically pennies! I loved their nice display, which also showed some of their ready-made Valentine options and featured an old typewriter upon which ready-made cards were propped.
Dolce & Biscotti Valentine Message Cookies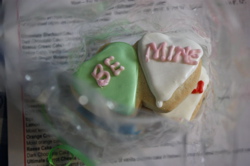 Dolce & Biscotti bakery in Clifton Park is offering loads of options for Valentine's day -- cakes with little hearts on them, heart-shaped cookies (individually or available in Valentine Cookie Bouquets), some of which are decorated just like those little conversation hearts! Those candies, while charming, are not nearly as delicious as these cute little cookies. A package of them can be bought for $5, although there are individual cookie offerings in the cases for cents (.50 to a few dollars for larger ones). Getting a couple of extra might be a good idea -- I ate all mine before I could give them away.
Massage Deals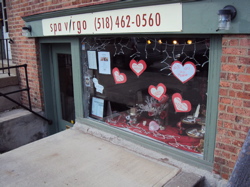 Spa Virgo at Svengali Studios on Lark St. in Albany is sporting a pretty little display of Valentine hearts that proclaim some of the deals going on right now for Valentine's Day! Gift certificates are available for spa services (to help get over the It's Really Cold and I Miss Spring Blues), massage packages tailored for 'him' or 'her', as well as couple's massage.
Candy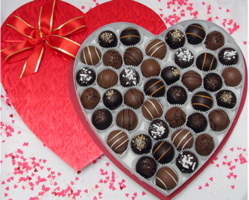 Not unlike Halloween, one of the great virtues of Valentine's Day is candy. Paired with flowers it's traditional, of course, and with the plethora of local candy shops around one isn't short of options. The deluxe truffle assortment above is from Saratoga Sweets, but there are a plethora of chocolate shops to choose from.
Isn't It Sweet on New Scotland Avenue is open till 6pm on Sunday, and has lots of Valentine's themed boxes and candies in addition to the usual goodies we all love to stuff our pockets with. Also check out Uncle Sam's in Schenectady, The Chocolate Gecko, and Krause's. Many candy possibilities!
Hi there. Comments have been closed for this item. Still have something to say? Contact us.