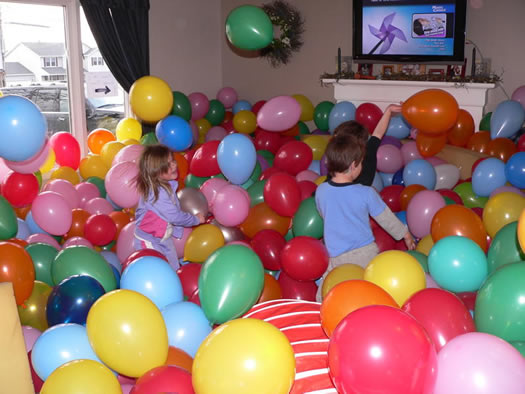 By Dawn Padfield
When Burnt Hills' Cindy Gotobed wants a party, she doesn't mess around.
For the past five years she and her family have hosted a Balloon Room party in their living room for her kids and their friends. What's a balloon room party, you ask? Only 1000 inflated balloons packed into your living room.
Why? It's 1000 inflated balloons packed into your living room.
Cindy was initially inspired to do this for her son's first birthday party. It started with a mere 25 balloons to kick around the room, but some friends helped out and they decided to see just how many balloons they could inflate. By the end of the night, and with some very sore fingers from knot-tying, they ended up with about 600 balloons. Since then the parties have only gotten bigger.
Of course there are certain elements which help to optimize this event, and Cindy has this down to a science. Over the years she has found that 12-17" balloons work best and it's best not to fully inflate them so as to minimize popping. She doesn't use helium because that gets too expensive, and she keeps about 200 extra balloons on hand in case of popping and deflation. Cindy estimates it costs $100-120 for the party (with balloon donations accepted). It takes about 3-4 hours to inflate the balloons with the help of some dedicated friends.
Cleanup? Not a problem. That is probably just as fun as the actual balloon room itself. According to Cindy, give a couple of kids a half hour and some safety scissors and things are back to normal in no time.
The Gotobeds (pronounced Got-a-bed) have been hosting this event over the last few years during the winter school break -- her kids hand out invitations at school and there's now a Facebook page. The Balloon Room lasts three days, which is just enough time for Cindy to start missing her living room (and for the smell of latex to get dizzying). Last year she estimated about 70 people of all ages stopping by to check it out.
Now, if only there could be a Cupcake Room...
Dawn is the author of Small-bany, a blog about stuff to do for kids and parents in the Capital Region.
Hi there. Comments have been closed for this item. Still have something to say? Contact us.