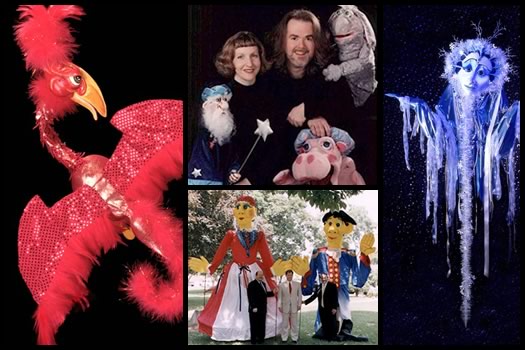 By Jessica Pasko,
Schenectady's Michelle Smith-Carrigan and Mark Carrigan advertise themselves as "your puppet professionals."
Seriously, how much fun must they have at parties?
"So what do you do for a living?"

"Well, actually, I'm a puppet professional..."
So, what's it like being "The Puppet People of Schenectady?"
Michelle says the best part of the job is the variety.
Some days she's performing, others she's booking shows, writing scripts or creating puppets. Another day may be spent teaching puppet-making workshops.
Michelle and Mark have run The Puppet People for the past 15 years. They met at the now defunct Bennington Marionettes, a puppet theater company that was based in Troy. Michelle had a degree in theater and art from UAlbany and got into puppetry while working for a guy who booked puppet shows. Mark had a degree in sculpture from UMass, but had always had a kind of fascination with puppets.
When the Bennington Marionettes folded, they opened their own company.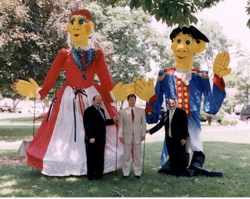 Most of their puppets are hand puppets, marionettes and rod puppets, ranging in size from one to three feet tall, but they'll sometimes make much larger puppets on commission. Those are usually for parades, and are as much as 12 feet tall -- any taller than that and the puppeteer could lose their balance. One of their weirdest puppets is actually bigger than that -- a 15-foot stegosaurus designed for the Sonoma County Fair in California -- but it takes 10 people to operate.
Most of the puppets are made of fabric and other light-weight materials to keep them easy to operate. Each one takes on its own personality, in part based on how it can and can't move. Sometimes a puppet's "voice" just sort of invents itself, while others evolve based on their scripts. Still, others are decided by the voice actors that work with Michelle and Mark.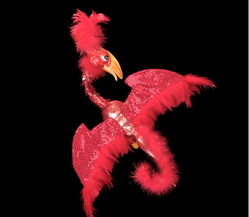 About 60 percent of The Puppet People's shows are done in schools, where they mix puppetry with literature and fairy tales to entertain and teach kids about social issues. They also perform at libraries, museums, festivals and various theaters and they're part of the national puppet association called Puppeteers of America.
They've toured five states with "Bully Busters," a show aimed at teaching children how to deal with bullying issues. Currently they're working with local musicians to create a soundtrack for the show.
If you'd like to see what their work looks like, here are selections from their versions of "The Firebird," "The Legend of Sleepy Hollow," and "The Elephant Child".
Hi there. Comments have been closed for this item. Still have something to say? Contact us.