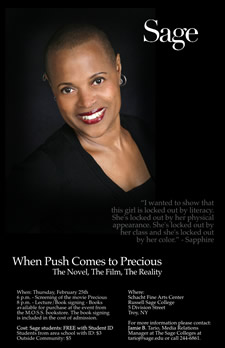 Sapphire -- the author of Push, the novel from which the film Precious (trailer) was adapted, will be giving a talk at the Sage campus in Troy next Thursday (February 25).
Precious opened to widespread acclaim last year (it's been nominated for six Oscars). But Push created its own stir -- because of its subject matter, voice and advance -- when it was first published in 1996.
Sapphire told NPR last year that she based the books on her own experiences as a remedial reading teacher:
The author says that she encountered girls like Precious while teaching -- overweight girls who didn't fit into the confines of our society's beauty paradigm, girls who were essentially "locked out" of the broader culture.
"I wanted to show that this girl is locked out through literacy. She's locked out by her physical appearance. She's locked out by her class, and she's locked out by her color," says Sapphire. "I encountered this. I had a student who told me that she had had children by her father."
The talk starts at 8 pm in Schacht Fine Arts Center on the Troy Sage campus -- there's a screening of Precious at 6 pm (the center is at 1st and Division). Tickets are $5 at the door ($3 for students, free for Sage students).
Sapphire recently spoke to a big crowd at the University of Michigan. We've heard from Sage that they've already changed the talk to a larger venue because of expected attendance.