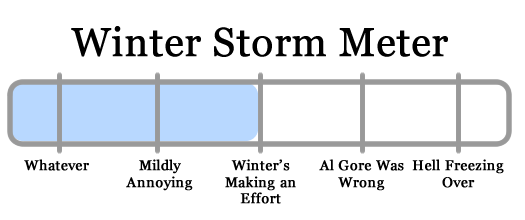 The projected snowfall totals for the rest of the week are starting to increase. From the National Weather Service:
Today: mix of rain/snow
Tonight: "New snow accumulation of 4 to 8 inches possible."
Wednesday: "New snow accumulation of 3 to 7 inches possible."
Thursday: Chance of precipitation 80 percent. But as the forecast discussion notes for Thursday and beyond, "a high degree of uncertainty remains during this period."
Friday: Chance of precipitation 70 percent.
The forecast continues to include high temps in the mid to upper 30s for the rest of this week.
We're bumping this up to a "Winter's Making an Effort" situation because, while it sounds like any one day this week might not be too bad, the string of them could add up. It seems that a lot will depend on which way temperatures break, elevation and a storm on the coast.
In other words, your wintry mileage will almost certainly vary. And it looks like the snow we're getting will be the wet, heavy kind. So, make sure you car has its snow brush. And bring a shovel.
Necessary note: You should take this all with an enormous bag of rock salt. AOA has absolutely no weather forecasting expertise. At all. We do, however, think it's funny how every winter storm is treated like the end of the world. Also: Ellsass, we're sorry.
Hi there. Comments have been closed for this item. Still have something to say? Contact us.