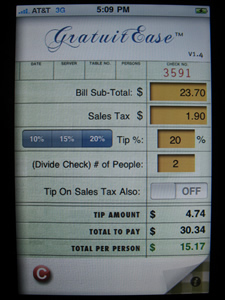 Check it out: Spiral Design, a design studio based in Cohoes, has developed a tip calculator/bill-splitting app for the iPhone. From the app's description:
GratuitEaseâ"¢ is a simple, easy-to-use tipping calculator. Enter the bill sub-total, sales tax, select a tip percent, choose to tip on the sales tax or not and divide the total equally among friends.
As you might expect, there are a bunch of apps like this. What might set Spiral's apart is its interface, which is fun -- it's like a one of those old-school handwritten restaurant checks.
The app is 99 cents.
By the way: Snow Brawlin' -- the game app developed by Saratoga studio Ghost Hand Games -- was recently the #1 most downloaded game... in Eastern Europe.
Hi there. Comments have been closed for this item. Still have something to say? Contact us.