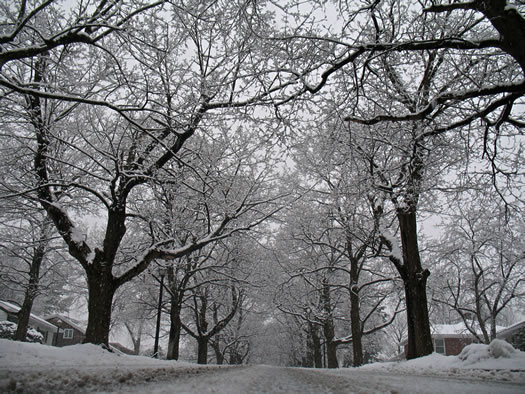 We got more than six inches of snow yesterday, according to the National Weather Service (obviously, there's been more since midnight). More snow is forecasted for today. Many cities and towns have declared snow emergencies (including Albany and Saratoga Springs). National Grid was reporting on its web site this morning that about 15,000 customers were without power in the Capital Region. [NWS] [CapNews9] [National Grid]
Rochester's police chief, who was a finalist to head up the Albany police department, has pulled his name from consideration -- somewhat to the annoyance of the search committee. [TU] [CapNews9]
A SUNY committee has voted to recommend closing the New Covenant charter school in Albany. The final vote on the matter is next month. [TU] [Fox23]
The advisory panel for paid parking in downtown Saratoga Springs voted to reject all four of the plans submitted by contractors. One panel member called all the plans "totally flawed." The proposed 2010 budget for the city includes $1.35 million in revenue from parking. [Daily Gazette $] [Saratogian] [Post-Star]
Troy's city council voted 4-4 on the sale of the Uncle Sam parking garage -- which pretty much kills the deal. The developer who wanted to buy the garage now says he might pull out of the city. [TU] [Troy Record]
New York's highest court has ruled that legislative and executive branches have created a "judicial pay crisis." Legislators don't sound all that eager to raise judges' pay, though. [NYT] [TU]
Could this be the year the state legislature approves medical marijuana?
The Colonie town board has voted to seek the dismissal of town landfill employee for allegedly allowing underreporting by County Waste. [TU]
Troy police say the woman accused of stabbing her landlord says she did so in self-defense -- and a teddy bear may also have been involved. [Troy Record]
A Schenectady County prosecutor says the fatal shooting this past weekend in the Vale neighborhood was not a random hit. [Daily Gazette $]
Glenville police say a man tried to rape a 17-year-old woman after picking her up in Schenectady this past weekend. They say the woman was able to escape and a driver came to her aid along Route 5. [Fox23] [CapNews9]
Rensselaer County says two rabid raccoons turned up in Wynantskill. [Troy Record]
A survey of local businesses reports that there's optimism about the local economy -- sort of. [TU] [Daily Gazette $]
Hi there. Comments have been closed for this item. Still have something to say? Contact us.