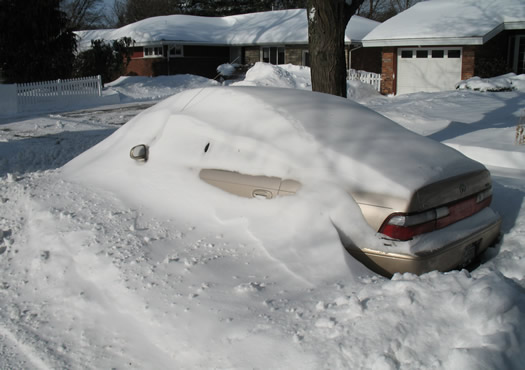 If you've ever lived somewhere where you parked on the street, this has almost surely happened to you: you break your back shoveling out your car, run out for a few errands, come back and... someone has now parked in "your" spot. The one you painstakingly cleared.
(rage blackout)
So, what's the "right" thing in this situation?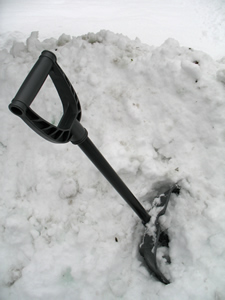 In favor of shovelers' rights
Winter parking spots -- especially during snow emergencies -- are valuable commodities. And if someone's willing to take a half-hour to dig through the plow pile and shovel out a spot, there's gotta be some sort of pay-off. They've improved the street.
Some cities have actually codified shovelers' rights. Boston allows "spacesavers" to be used in holding spots for 48 hours after a snow emergency (this is the King of such spacesavers). And the mayor of Chicago has asserted a shoveler's right to his/her cleared parking spot (though we're not sure what he would think about this kind of, uh, marking).
As this essay by Fred McChesney notes, there's economic theory backing up the "you shoveled it, you own it" idea:
... an economist would predict that permitting private property would incite others to expand the amount of space. And so it does. Not only do those who dug out their cars the first morning have a space thereafter, but neighbors whose cars were not on the street begin to hack away the snow masses created by city plows to make a space for themselves. As black patches increase, the snow melts fast along the cubs. In both respects, the result is not just distribution of a given quantity of space, but creation of more space.
And on top that, it just seems plain wrong to jack someone's spot. It's tacky.
In favor of the free-for-all
On the other hand, these spots are on public streets. And what gives people the right to "own" these spots -- especially over the course of multiple days? Sure, the shovelers put in effort -- but that effort primarily benefitted them (you can't drive your car if it's buried in a plow drift).
And as Chicago Tribune columnist Eric Zorn -- a critic of saved spots -- points out, sometimes clearing a space doesn't even require that much effort:
More often than not, the lazy, selfish citizen bucks his car out onto the street, then scurries over to toss some junk on the bare patch of pavement that his car was parked over as the snow fell. He's done no shovel or broom work at all, yet feels entitled to claim squatter's rights for up to a week.
Snow can be pain. Such is winter. Deal with it.
So, where does that leave us...
Well, we probably lean in favor of shovelers' rights. We're not sure a city ordinance or anything should back them up -- but it does seem like common courtesy to respect your neighbor's effort.
That said, you gotta park somewhere. And sometimes the only spot is the cleared one.
Update: Check out this "shovel your own spot" sign from Albany on Passive Aggressive Notes. (Thanks, Ashley!)
By the way: the Washington Post notes that people have actually been killed over this issue.
[EconLib link via MR]
Hi there. Comments have been closed for this item. Still have something to say? Contact us.