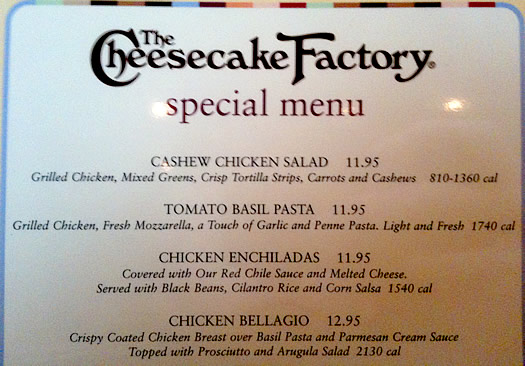 We have seen the future of restaurant menus in Albany County.
And it's kind of depressing.
We went to the Cheesecake Factory* for linner (yes, linner) this past weekend. And, as required by the Albany County law that takes effect this month, the menus had calorie counts listed next to all the items. The totals were big. Really big.
As we scanned up and down the absurdly long menu, suddenly everything seemed like a bad idea. It was a downer.
So? Get over it.
There are a lot of good reasons to support menu calorie counts.
+ About half of adults are now overweight or obese.
+ Portion sizes at many restaurants are completely ridiculous.
+ People can easily be tripped up when guessing how many calories there are in a plate of food.
+ And giving people more info usually good thing. Maybe now they'll make better choices. (Yes, that salad has over a thousand calories. Avoid.)
OK, but...
Still, it's hard for us to totally embrace this idea -- however good it might be.
When we go out to eat, we're looking to have a good time -- and, one would hope, eat some food that tastes good. If it's healthy, great. But often it's not. That's OK. It's an indulgence. (It'd be a different story if it was an everyday thing.) It's one of the reasons we keep an eye on what we eat the rest of the week -- so that we can go out to eat and not worry too much about it.
We were never operating under the assumption that a place called "The Cheesecake Factory" is a health clinic. But having that fact reiterated item after item on the menu is a drag. Yes, we get it. Not healthy. One should not subsist on miso salmon and cheesecake alone. It's like having your mom scold you for not eating your vegetables.
And all this for something that may not actually lead people to eat fewer calories (unless it does -- there needs to be more research).
When fork hits plate
A lot of this is probably just the shock of seeing counts for the first time. (We bet that impression wears off a bit.) And it re-enforces some things we were already doing -- like combining lunch and dinner when eat at a place like the Cheesecake Factory, or splitting entrees (seriously, the portions are completely crazy -- there's easily enough for two people).
That said, we do find ourselves wishing a little bit for the option to request a menu without the counts.
Oh, by the way: The new law doesn't affect non-chain restaurants, but you know many of the dishes at those places are also packed with calories -- even upscale dining establishments. As NY Mag found out, a night out at Per Se is the caloric equivalent of eating at... the Cheesecake Factory.
Update: It sounds like Kristi had a similar experience.

*Yes, really. It's not bad. Even serious foodies like Michael Ruhlman grudgingly admit there's good food to be had there.
Earlier on AOA:
+ How many calories does that cost?
+ New York's fattest counties
Hi there. Comments have been closed for this item. Still have something to say? Contact us.