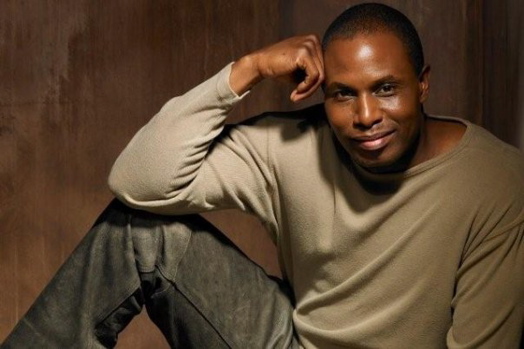 Kevin Craig West could easily win the title for hardest working guy in show business. The Arbor Hill native and Troy resident is an actor, producer, director, writer and editor who is constantly networking.
West recently named best actor at the Knickerbocker Film Festival for his work in Mike Feuerstein's film The Greatest Man Alive. And he's currently appearing in Capital Rep's production of To Kill A Mockingbird.
We got together with West last week to talk about the strange way he backed into his career, Arbor Hill, the growing film scene in the Capital Region and car chases with Angelina Jolie.
Growing up in Arbor Hill, did you always want to be an actor?
You know, as a kid, in high school, college, in the marine corps... I never had any inkling that I'd be involved in the arts at all. I went to college in Alabama to study math -- to become an engineer. I have a strong math and science aptitude, which is beneficial today because of the way digital technology is involved in the arts. My last real job was a systems analyst for the state.
So how did you end up in theater?
I think really think it was fate, or luck.
Some friends put together a project and kind of forced me to be in it. I was an onstage narrator for a play titled, oddly enough, Roads to Life. And it became my new path. I fell in love with it.
A week later I went to see Big River at NYSTI and decided this was something I could see myself doing for the rest of my life. I volunteered to be an usher and watched the show every night and I absolutely made up my mind that it was what my life was going to be. I became an intern with NYSTI and was cast in their following full season.
A year or so later I started getting my union cards. I got my Equity Card here at Capital Rep 13 years ago when I did To Kill A Mockingbird. Then I got a film and got my Screen Actors Guild card.
At the time I had no clue that these were things some people take decades to acquire. People had to tell me, "Noooo, you are on a lucky streak." I've been very blessed.
You lived in New York City for a while. Why did you move back to the Capital Region?
I moved back here when my daughter was born. I didn't want to raise her in NYC, I wanted to raise her around family. I live in downtown Troy now. My wife is from Troy, but my family is still in Albany.
I'd really like to put together a film project to shoot in Arbor Hill. Hopefully the right project will come along so that I can go in and show off Arbor Hill in a positive way. It really is a great community in a lot of ways. It gets a bad rap of course, because it is an impoverished part of the city, but there are great people that have come from there and there are still great people there. And just because people are economically disadvantaged doesn't mean they are derelicts of society and don't have culture. There is a rich culture there that can be tapped into and should be exposed.
So how do you manage to work as an actor and film producer in this region?
I write, produce, direct, do video editing and some sound work. I teach a film class with the Albany School of Humanities and taught one for Albany Prep. I'm an online teacher for voice coaches and I've been a teacher artist for 11 years straight with Symphony Space in New York. My schedule is pretty much always full, but I never really feel like it, because I just love what I do.
I'll travel anywhere. I work both coasts. There's a film on the festival circuit -- This Life Ain't Pretty -- that I'm one of the leads in, that we filmed out in Illinois.
But there is a great deal of work that happens in the Upstate New York area. There are wonderful Equity theaters in Upstate New York and there are a number of commercials and industrial training films.
And Hollywood is paying attention to the Capital Region now. With [mayor Mike] Bloomberg putting restrictions on what can be done with exterior shooting in New York City, doors have opened up because because those types of restrictions are not currently in place here. You can do a stunt scene driving 45 miles-an-hour down an Albany street if you want. We haven't had any fatalities, yet.
We've got Upstate Independents, the Schenectady Film Commission, the Saratoga Film Commission and the Hudson Valley Film Commission all in a 50-mile radius. These things are being created because the projects are coming in. I'm involved in a film project that will be coming here in the spring. It's a SAG feature project that's been filmed in New York City. It's 70 percent done and I've influenced them to finish it here. The Schenectady Film Commission is instrumental in making sure venues are provided so that we can film.
What are some of cooler things you've found yourself doing?
A few weeks ago I had a great job in an ad campaign for Windham Mountain, going skiing for the day while people took pictures of me. I had an Off-Broadway show once where I was paid to play basketball. The show was about basketball and it was sooo much fun. Joe Fearless was the name of the play. Choreographed full court basketball on stage with a wonderful cast. It was written by the writer of She's Just Not That Into You. I was a uniformed DC cop in Salt, chasing Angelina Jolie.
Who else have you worked with?
One of the great things about this business is that if you hang around long enough you get to meet a lot of people. My second year in the business I did a film called Before and After that starred Meryl Streep and Liam Neeson. I got to spend some time on the set talking with them and I was in awe, you know?
But that did it for me. After that I was never really star struck again. I've got people's numbers in my cell phone... but it doesn't mean anything. They're just people. Very talented people. And they're not really like the people you read about in the tabloids at all. Well, most of them aren't.
What's your advice for people who want to do the kind of work you're doing?
Just do it. Don't second guess it, go out and do it. I absolutely believe that as you think, so shall you be.
___
As you've probably noticed, Capital Rep ads do run on AOA. And Kevin Craig West is in its current production. But we've wanted to talk with Kevin for a long time -- and it just happened to work out now.
Hi there. Comments have been closed for this item. Still have something to say? Contact us.