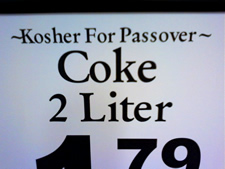 First, outdoor ice cream stand openings -- now kosher for Passover Coke? It really must be spring.
We've gotten reports of sightings of the HFCS-free soda at the both the Slingerlands and Madison Ave (Albany) Price Choppers. Chances are it'll be in a store near you soon, if it isn't already (Hannaford usually carries it, too). Look in the special Passover section. Check for the tell-tale yellow cap.
So, what's the big deal? Well, normal Coke is made with high fructose corn syrup, which makes it not kosher for Passover (among other things). It also, according to soda snobs, makes Coke taste not quite right. Kosher for Passover Coke, on the other hand, is made with cane sugar (like Mexican Coke, which goes for about $1.80/bottle on Amazon) and is said to be smoother and have a cleaner finish. (Pepsi has been trying to capitalize on this with its "throwback" line.)
(Thanks, Fred and Amanda)
Hi there. Comments have been closed for this item. Still have something to say? Contact us.