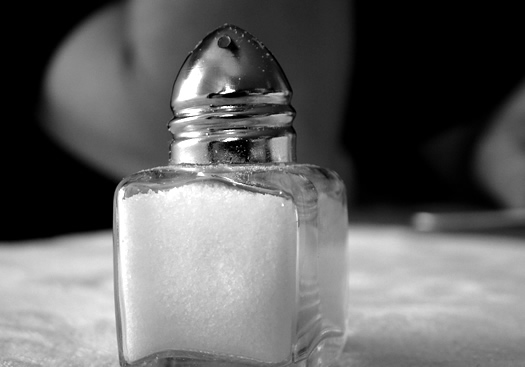 As you might have heard, state assemblyman Felix Ortiz (D-Brooklyn) has proposed a bill that would ban restaurants from using salt in the preparation of food.
That hasn't exactly gone over well. A quick spin around the table for reaction after the jump.
Also: a scan of Ortiz's other fun-filled legislation.
The reaction
The Center for Consumer Freedom, an industry-backed group that's "devoted to promoting personal responsibility and protecting consumer choices," appears to have been the first to yell about the Ortiz bill (it is their job, after all). CFCF calls the measure an "absurdist bill" and says Ortiz has "single-handedly insulted the intelligence of the entire state."
Following the tip from CFCF, Katherine Mangu-Ward from Reason -- the libertarian mag -- noted with sarcasm that the bill's $1000 fine for using salt was "totally proportionate and reasonable." She also called the bill "the ravings of a madman in legislative form."
Chore Sicha at The Awl: "[the bill] is off to the Committee on Health, where they are going to laugh and laugh and roll around on the floor and laugh some more before deep-sixing it in some filing cabinet somewhere." (Also, he found a great accompanying photo.)
Steve Barnes called the measure "a deeply misguided gesture that is also an abuse of the legislative process" and tagged it as "a nanny-state bill." Steve goes on to lay out the culinary and scientific basis for using salt in cooking (it's good stuff -- go read it).
The Center of Science in Public Interest's Michael Jacobson (pretty much the mortal enemy of the Consumer Freedom group) criticized the bill in National Restaurant News: "Limiting sodium requires more a scalpel than a meat axe."
The Village Voice's Rebecca Marx calls the bill "the kind of sadly deranged move that could have made only by someone whose electrolytes are hopelessly out of whack."
NYT commenter stanford mcstanihan: "Good idea. While we're at it, why not ban all the things that can potentially be used to excess and lead to death. I'm sure the list would be small. Prohibition's where it's at yo!"
Famed chef Eric Ripert to NYDN: "There are zero dishes I prepare that have no salt at all."
Daniel Maurer at NY Mag's Grub Street: "maybe chefs shouldn't even bother cooking and we should just have microwaves at every table."
The Atlantic's Max Fisher says Ortiz's bill is a good idea: "Bottom line, I doubt he really wants to ban salt. But he does want to get people thinking about salt as a health danger, which he's accomplished, and maybe to inspire a reduction in salt consumption."
OK, so who is this Ortiz guy?
Curious about who would actually float a bill like this, we took a look at the other legislation sponsored by Felix Ortiz. Among the bills:

That's only a slice of Ortiz's slate. Many of his bills look like they could be good ideas and are probably well-intentioned. But after reading through the list, we kind of get the sense that Felix Ortiz is the buzzkill at all the Assembly keggers.
photo: Flickr user Ingorrr
Hi there. Comments have been closed for this item. Still have something to say? Contact us.