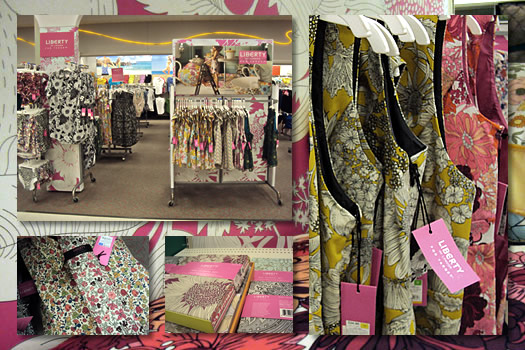 By Kaitlin Resler
The first time I heard the iconic British clothing brand Liberty was pairing up with Target for their GO International designers partnership, I was gleeful. Teeny-weeny floral designs (the kind Liberty is famous for) just for spring! And not just dresses, but men's shirts and ties, teapots, pillows, stationary... all kinds of stuff!
At the back of my mind was the tiniest bit of trepidation -- these collections have been disappointing in recent collaborations, but how could florals go wrong?
Thankfully, we have access to several Targets that carry the collections. I checked out the Albany and Latham locations. Here's what I found...
Each store has mostly the same pieces, with a few items varying. The Albany location had more going on for women -- not just styles, but sizes -- while Latham had more for guys (in numbers, but less variety in patterns). These just came out this week, and I think they'll go fast (displays in NYC and San Francisco have already been cleaned out).

Women's
I grabbed the ruffled halter dress in both prints (a loud, late 60s looking print in lots of mustards and pink, and a more demure pattern with tiny flowers), two blouses, a third dress, and one of the men's shirts to try on.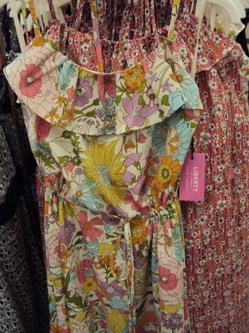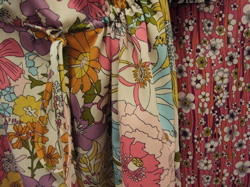 I discovered this collection runs big. I ended up going smaller than usual, but found the fits themselves to be alright. Some of the zippers aren't as smooth as they should be on the zip-up, particularly on the yellow wiggle dress ($34.99) which I left with. It's of a sturdier material and it's classic lines. The print is a bit big, especially for Liberty, but I like mustard-y yellows.
The other dresses were really disappointing -- 100% polyester and you can tell. Once again, Target skimps on the materials in these collaborations, and it's a problem. The fit is quite boxy, although the straps and waistband can be adjusted, and the weight of the material isn't quite enough to keep the ruffles from looking flat and sad. They ring in at $19.99 -- and will probably be worth it when they go on sale for when it's 803,987 degrees out.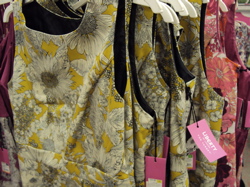 One dress, which looked lovely on the hanger, was a heinous mess on. Mostly because of this funny bit of fabric in the front that I will dub, The Fin. The Fin is awkwardly placed on the skirt and bodice part of the dress, but not sewn down on one side so that it may attractively flop about while one walks, if one would like to have a fin looking object attached to their tummy. Sad, because the print is really neat without being too prim.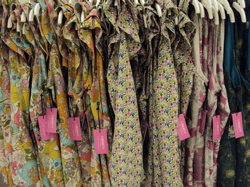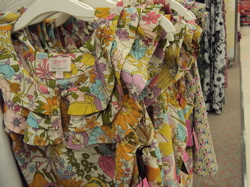 The two blouses (both at $19.99) fit alright, the sleeveless peacock slightly better than the other ruffled one. They ran a bit big but don't have zippers, which makes them a bit hard to wriggle in and out of. I did like them; the sleeveless one was quite flattering, but I didn't love either enough to take one home with me.
No skirts at either location, which is kind of a bummer.
Men's
The men's clothing in this collection is awesome. Not a huge selection, but pretty neat anyway. The prints might seem over-the-top for a lot of guys, but try not to treat them as odd just because they're floral. Start with a small dose -- a tie or a shirt under a sweater so just a thin slip of cuff or collar peeks out. It's a nice change from all that plaid out there, but uses color and pattern in a slightly different way and makes a look more interesting. It's not for everyone, but it's a nice challenge piece to integrate into a wardrobe.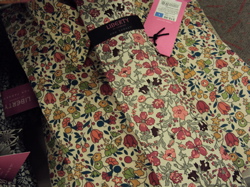 The shirts are quite nice. They're cut a bit wider than say, H&M's men's shirts, but not by much. I can get away with a men's small, though the sleeves are long, but I do find it to be slightly more generous in the body than other stores.
It's a strange light cottony fabric, which I guess would be really nice to edge up an outfit for the office in the summer, or for a pop of pattern under a sweater or a blazer, but it's defiantly not an autumnal or winter fabric. There are three prints to choose from. One looks like a non-floral pattern from far away and is navy and white. The pattern is small, so it's not too loud. Another looks like wallpaper, not in the worst way possible, and a third is an all-out Liberty floral print in oranges and yellows. They're a pretty good $19.99, which is what sale shirts at Express will run you, and around the same price for one from H&M.
Again, try a shirt under a sweater or a blazer so the print won't overwhelm or seem garish. The white on blue pattern as well is fairly low-key, and from person-to-person distance looks just like another gingham shirt.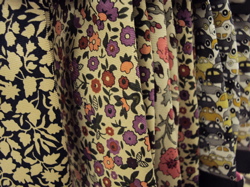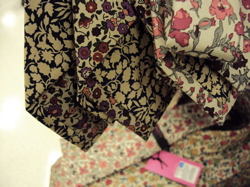 The ties are the real draw here. The prints are really small (maybe not really, but they're small) and subtle from a distance, which I think is part of the key for floral patterns on guys. One of the patterns is, as it turns out, teeny cars! The fabric of the ties is of nice quality, smooth enough to try out a fancy-pants knot if you're so inclined, and features a contrasting fabric in the lining.
There seem to be a lot of boxers, which are great, but why waste a great neutral colored print on underoos?
Other stuff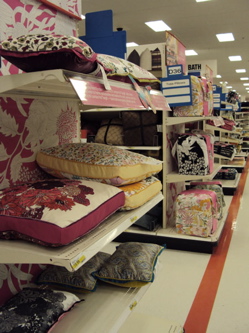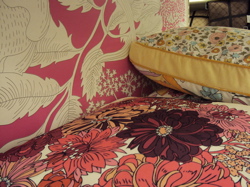 The rest of the Liberty things are spread throughout the store. You can find them by the large butterflies on display hanging from the ceiling over the aisles where the items are tucked away, although there isn't much else. I was drawn in by some pillows ($14.99-$19.99) and the bed sets (priced up to $59.99) but I'll hold out for sales.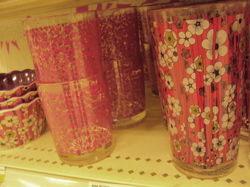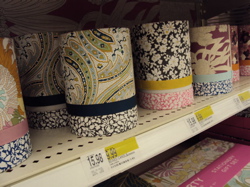 The kitchenware is neat, but I haven't been able to find the teapots etc., featured in the ads. Just some plastic floral tumblers ($4.99) and various picture frames (at and around 9.99$). Candles are lurking in the stationery aisle (what?!) at $9.99 but they do actually smell good and the floral container is removable so you can use it for a secret compartment later (or something practical).
The stationery is nice, but it's floral, and floral stationery isn't exactly hard to come by. The clip-boards are nice ($9.99) but another wait-for-it-to-go-on-sale item.
The kids stuff is also quite neat; it's smaller more age-appropriate versions of the women's outfits for girls, and if you're small you might be able to pull off a girls XL in some of the dresses or skirts. They're running around $14.99 for each dress, which I think has nicer prints than the adult versions.

Say Something!
We'd really like you to take part in the conversation here at All Over Albany. But we do have a few rules here. Don't worry, they're easy. The first: be kind. The second: treat everyone else with the same respect you'd like to see in return. Cool? Great, post away. Comments are moderated so it might take a little while for your comment to show up. Thanks for being patient.