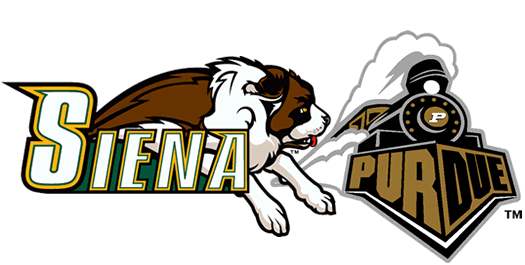 Siena takes on Purdue in the first round of the NCAA tournament Friday afternoon (it's a 2:30 pm scheduled tip off).
Siena is a #13 seed and Purdue a #4, so it might seem that Boilermakers have this in hand. But the #1 and #2 seeds probably aside, no team in safe in the NCAA tournament. Example: #13 seed Murray State knocked off #4 seed Vanderbilt on Thursday in the West bracket.
So, what are the Saints' chances? Let's break it down...
Here's a little bit of background on Purdue.
Injuries
It's hard to judge how good Purdue is right now because one of their best -- in not the best -- players on their team got hurt at the end of February. Forward Robbie Hummel was 41st in the nation in offensive rating this season (a measure of how efficiently he converts possessions into points). They haven't looked so hot since he's been out.
Siena's dealing with a key injury, too. Shooting guard Clarence Jackson, a starter, hurt his ankle in practice and it looks like he'll be a game time decision.
Advantage (if you want to call it that): probably Siena
The stats
Kenpom According to the rankings compiled by basketball stats uber-nerd Ken Pomeroy, Purdue has the clear advantage -- the Boilermakers are 13 in his rankings and Siena is 59. (Pomeroy's rankings are based on offensive and defensive efficiency, along with records.) But that's based on the whole season -- and most of those games Purdue had Hummel playing. He was far and away the most efficient player on offensive for the Boilers.
Probability Pomeroy's ratings can be used to produce probabilities for game results. According to the formula used by Pomeroy and Basketball Prospectus, Siena would beat Purdue almost three of out every ten times they played.
Fouls There's a theory that teams which are fouled more often than they foul -- that is, they have a positive foul differential -- tend to win. By that measure, the Saints would seem to have an advantage. On average, Siena's opponents fouled the Saints almost five more times per game this season than the Saints fouled their opponents. Purdue was just about even with its opponents. Perhaps not surprisingly, Siena leads the nation in defensive free throw rate (definition).
Advantage: mostly Purdue -- though foul differential is in Siena's favor
The experts
Sports Illustrated SI's college hoops experts pick Siena 6-2.
ESPN Dick Vitale picked Siena. "Sports Guy" Bill Simmons did not.
The President First Fan Barack Obama picked the Saints.
Advantage: the experts are leaning toward Siena
The crowd
Of the zillion (or so) people playing in Yahoo bracket challenge, almost 35 percent picked Siena to beat Purdue.
Advantage: the masses pick Purdue
Vegas
The sports books have Purdue listed as a four point favorite in this game.
Advantage: Vegas likes Purdue in this one, but not by much
The Bottom Line
The stats-based predictions lean toward Purdue, but they're probably not as reliable because the Boilermakers are missing one of their stars. Almost everyone else seems to be pulling for Siena.

Hi there. Comments have been closed for this item. Still have something to say? Contact us.