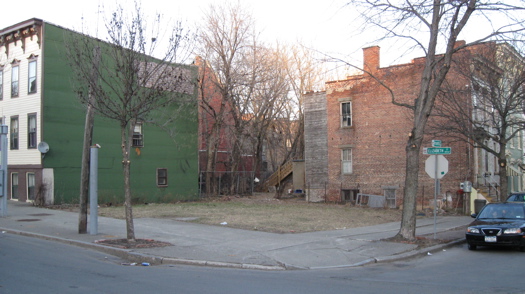 By Jessica Pasko
What would you do with a vacant lot? The folks of Grand Street Community Arts want to know.
They've got big plans to turn some of the empty lots in Albany's South End into areas of urban beautification. Through the Vacant Lot Project, organizers will be working with community organizations and individuals to come up with new ways to revitalize the spaces.
And they're looking for input.
The project started last year when the GSCA worked with some teenagers from their Youth Organics program to transform a lot on Elizabeth Street. They were hoping to turn the lot into a small theater for neighborhood performances. They did a lot of research, but their work never got past the planning stage. But it looks like things will be different this year.
GSCA has been working with the city and owners of private lots to determine what types of things they'll be allowed to do with the spaces. They're accepting proposals from individuals and organizations until April 9. Once they decide which plans to go with, they'll seek final approval from the city. If all goes according to plan, they hope to start working on the lots by May.
While GSCA certainly has a lot of ideas about how to revitalize the lots, they're also leaving a lot of opportunity open. Tom McPheeters, development director of GSCA, says that most of the projects will be centered around landscaping, but even that holds a lot of possibility. It could include garden beds, installation art pieces, outdoor exhibit spaces and more.
Basically, they're looking for anything that could be good for the neighborhood, according to Jane Wolterding, a graduate student helping to manage the project. She says they're hoping some of the proposals will hold ideas they've never thought of.
GCSA has a pretty good track record when it comes to urban beautification. Their Boarded Up! project just re-launched with nine new boards hung on Friday. Be sure to check it out.
And if you're interested in being a part of one of the vacant lot transformations, you're invited to submit your proposal by e-mail or snail mail. Details can be found on the Web site, or contact vacantlotproject@grandarts.org or 518-433-0679.
Hi there. Comments have been closed for this item. Still have something to say? Contact us.