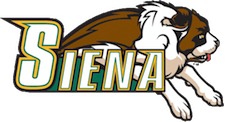 Siena made a good effort against Purdue, but the Boilermakers were just too tough.
The Saints led at halftime 32-29. Then the Boilermakers seriously clamped down on defense to start the second half, which helped them go on a 13-0 run. It looked like Siena was wilting, but the Saints pulled it together in the last five minutes to go on a 12-0 run.
It just wasn't enough. Purdue hit its foul shots down the stretch and Siena ran out of time.
Edwin Ubiles led Siena with 18. Ronald Moore had 14 (3 assists, 4 turnovers), Alex Franklin had 10 (all in the first half). Clarence Jackson, a game-time decision because of a bad ankle, did not play. Box score.
It was still a great season for Siena. The Saints were 27-7 overall and they dominated the MAAC with a 17-1 record.