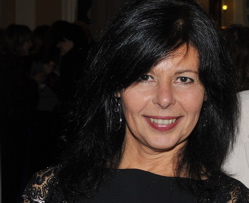 Every Monday night our friends at WEXT do this thing called My Exit -- local listeners get to come into the station and program an hour of music. So we thought it'd be fun to find out a little bit about these people and why they picked the songs on their play list.
Here's tonight's person:
Who?
Nancy McKiernan, owner of Charles Street Studio web & graphic design in Scotia.
How would you describe your musical taste?
Rock, jazz, blues, alt-country, old, new... depends on my mood but I especially love music with strong rhythms and bass lines. My playlist reflects that. If I had to do this playlist again I'd probably come up a completely different set every time.
5 Songs from Nancy's show:
Just Like Fire Would by the Saints
Incredible voice, great song - brings back a lot of good memories.
Catch and Release by Silversun Pickups
The bass line grabbed me first, and I love how the melody flows throughout like a stream.
15 Step by Radiohead
This song has it all - I never get tired of hearing it, with all its layers of sound.
Spanish Bombs by the Clash
Well, they ARE the only band that matters.
Follow Your Bliss by the B-52's
A great little instrumental hidden at the end of their Cosmic Thing cd. This song is grounded by the deep guitar, with the voices and organ floating above... such a good sound.
You can hear Nancy's My Exit show tonight at 8 on 97.7 or at exit977.org.
Here's how to schedule your own My Exit show on WEXT.
Hi there. Comments have been closed for this item. Still have something to say? Contact us.