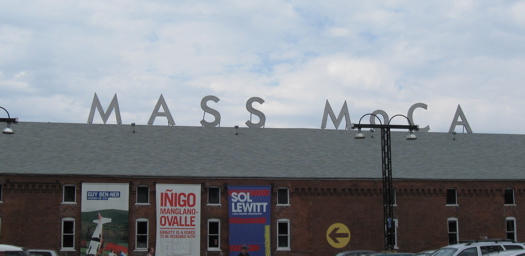 By Jessica Pasko
One of the good things about living in the Capital Region is that there are a wealth of cool places within a short distance.
Such as MASS MoCA and North Adams.
After the jump -- the virtual road trip.
The Drive
The meandering drive on Route 2 through Rensselaer County and into North Adams, Massachusetts is a delight of its own. I don't expect it's too fun in the winter, but on a spring, summer or fall day, well, it's quite stunning. Think gorgeous mountain views and plenty of foliage. Crank up some good tunes or your favorite podcast and enjoy the ride. Bonus points for weather that's warm enough for windows-down driving.
Stops along the way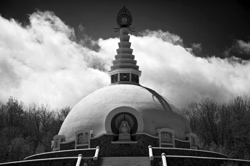 Typically I make a stop at the Grafton Peace Pagoda on the way there or back. Even if you're a skeptic when it comes to spirituality, I suspect you'll feel much more peaceful for having done so.
After this, you'll drive through Williamstown, where you can also visit the most excellent Sterling and Francine Clark Institute. You'll find Degas, Picasso, great impressionist art and special shows that are constantly changing. It's a great museum, and if you're the type of person who can do two museums in one day, then definitely check it out. Or make it a day trip of its own.
Admission is free from November through May. From June through October it's $15 for non members (still free for those under 18 and full-time students with I.D.). And if you're heading to MASS MoCA anyway, use the ticket package and get the two admissions (a $30 value) for $25.
Nosh
There's also a great little food co-op called Wild Oats that's good for picking up some gourmet snacks. And last time I checked, they have a reciprocal co-op agreement, so if you're a member of Honest Weight Food Co-op*, you can get a discount here too.
Following this, you'll wind up in North Adams, a post-industrial town on the Hoosic River.
North Adams and MASS MoCA
The big draw in North Adams is the Massachusetts Museum of Contemporary Art, better known as Mass MoCA. There's a small downtown, including a cool little coffee shop called the Brew-Ha-Ha, but other than that, there really isn't much else. There's a grocery store, some fast food spots, but that's about it. It's okay though, because MASS MoCA has a lot to offer.
Part of the beauty of the place is that even if you're not wild about modern art, the architecture itself is also really interesting. On a nice day, a stroll around the grounds can be almost just as fun as the museum itself. Even the bathrooms here are very cool and post-industrial. If you can time your visit to coordinate with one of their many special events, you can really max your time here. There's also a great little cafe.
Admission is $15 for adults, $10 for students and $5 for kids 6-16. Kids under 5 are free.

The gift shop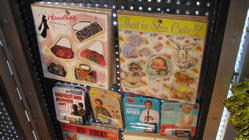 While most museum gift shops will capture my interest, the one here, Hardware, is probably my favorite. Not only is there a full selection of art books and MASS MoCA attire, there's also some awesome mod jewelry and an array of cool gift-y items like the "Color Me Fierce" coloring book, kitschy magnets, bowls made from LPs, silk-y scarves and neat little gizmos like guitar-shaped key holders and cartoon-bedecked reusable water bottles. There's also a cool little antiques/housewares shop in the MASS MoCA complex called Hudson's.
If you're looking for just a little splurge: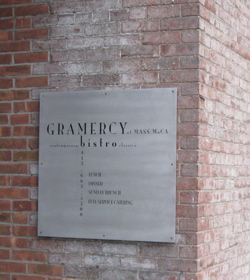 The Gramercy Bistro, formerly on Marshall Street, has now moved to its new digs in the Mass MoCA complex. It's the type of place I get a little giddy over - emphasis on using free-range, organic meats and locally sourced ingredients with a menu that changes frequently. Although I was pretty disappointed to find the rabbit risotto with truffle oil, mirepoix and leafy greens wasn't gluten-free, I was more than content with my seafood-packed paella and the mussels in a spicy Thai coconut broth as an appetizer. And I certainly didn't complain about the flourless chocolate torte. Entrees are mainly in the $25 range - the paella and the risotto were $25, a grilled trout dish was about the same.
I also give bonus points for a wine list that runs the gamut from a $29 malbec (and quite tasty at that) to bottles ranging up to $200.
If you're looking for a full-on splurge: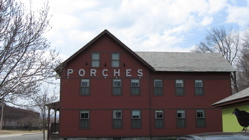 Spend the night (or two) at The Porches Inn, a collection of colorful Victorian row houses across from MASS MoCA that now house a unique "hotel." This is not the Quality Inn -- it's not exactly cheap at $180 a weekend night during the off-season -- but it's also not your typical hotel. Weekdays are a little cheaper at $130 a night during the off-peak season.
At Porches, it's the small details that make it worth it. From the DVD collection to the robes and the inclusion of wine glasses and a corkscrew in each room, Porches is all about comfort. This is not a hotel to just crash at. This is a place that is the destination.
There's a hot tub, a sauna and a heated, outdoor pool that can be used year-round, depending on how brave you are. There's also a fitness room, comfy communal spaces and a small "bar." And of course, a fully-stocked minibar, if you're in to that sort of thing. The covers even get turned down for you, and you'll find chocolates left by the bed, along with a jam-packed folder with info on what to do, where to go and what to see. The rooms themselves are adorable -- the aesthetic is described as "granny chic," but I think that makes it sound far less appealing than they really are. I'd say more like shabby chic.
And the coffee in the morning? Lo and behold, it's actually good. The continental breakfast is definitely better than your standard continental breakfast, with yogurt, bread, cheese, cereal, granola, fruit and juice, and more. And if you're helpless without your morning paper, you'll find copies of the Berkshire Eagle and the New York Times, among other periodicals.
* Disclosure: the Honest Weight Food Coop is an AOA advertiser -- figured you'd want to know about the discount.
Peace Pagoda photo: Sebastien B
Hi there. Comments have been closed for this item. Still have something to say? Contact us.