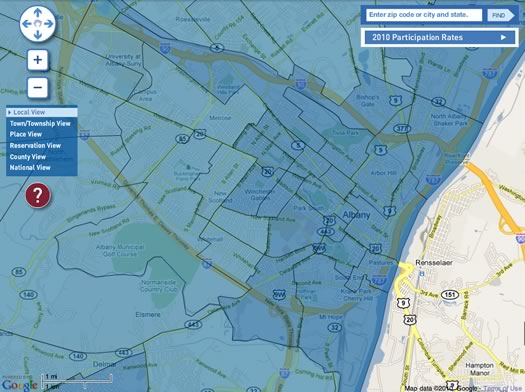 The Census Bureau is posting daily updates about "participation" rates -- by county, city and even individual census tracts.
It's still early in the collection process, but differences are already starting to show up. For example: the tract that includes the Park South neighborhood in Albany has an 8 percent participation rate (its final rate was 53 percent in 2000). The adjacent track that includes the Helderberg neighborhood is at 25 percent (82 percent in 2000).
As it happens, that Park South tract is considered a one of the hardest to count tracts in the nation.
You can explore the rates on maps or side-by-side text comparisons.
How the Census Bureau's calculating the rates:
The Mail Participation Rate is the percentage of forms mailed back by households that received them. The Census Bureau developed this new measure in 2010, in part because of the current economy and higher rates of vacant housing. The rate excludes households whose forms were returned to us by the U.S. Postal Service as "undeliverable," strongly suggesting the house was vacant. We will still follow up on all these housing units to ensure everyone is counted.
New York State's participation rate is 18 percent so far. The national participation rate is 20 percent. The place with the highest participation rate is Leighton, Iowa at 75 percent.
(Thanks, Fred!)
map grab: US Census Bureau
Hi there. Comments have been closed for this item. Still have something to say? Contact us.