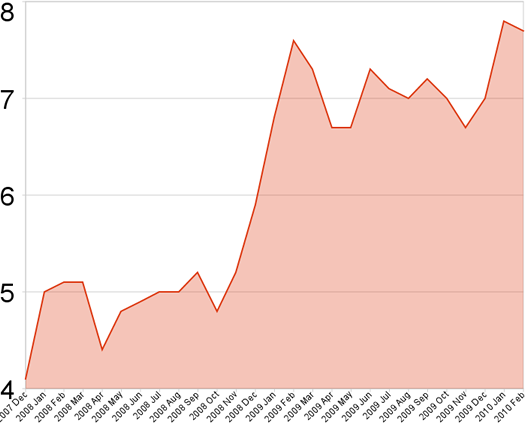 What now counts as good news: the Capital Region's unemployment rate didn't get any worse last month.
The state Department of Labor reported today that the area's unemployment rate was 7.7 percent in February. It was 7.8 percent in January and 7.2 percent a year ago. *
The labor department figures there were about 4,700 more jobs in the Capital Region last month, compared to January. That's down almost 10k jobs from February 2009.
There were more than 35,000 unemployed people in the Capital Region last month.
Statewide, the unemployment rate was 8.8 percent (7.8 percent outside NYC). That's the same as January. It was 7.5 percent in February 2009. The national unemployment rate was 9.7 percent. **
A labor department official noted in the press release accompanying the numbers that "following previous recessions, it has taken the state about five years, on average, to regain all of the jobs lost during a downturn."
A county-by-county breakdown for the Capital Region is after the jump.
Also: For a different angle on the unemployment situation, here's tcrpmg's recent experience at a few job fairs.

* Not seasonally adjusted (that means the best comparison is the same month in previous years)
** Seasonally adjusted
Hi there. Comments have been closed for this item. Still have something to say? Contact us.