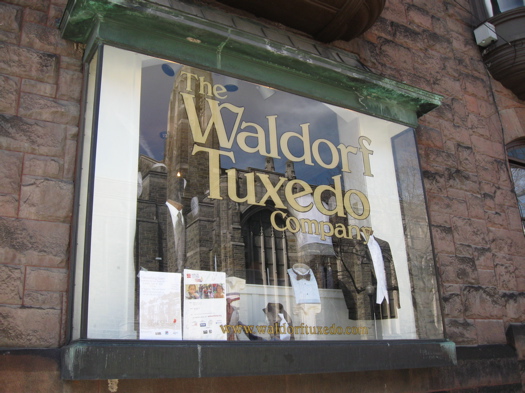 By Erik Dollman
I'm getting married.
I have four groomsmen, including my best man. Two of my guys are here in the Capital District, and two are out of town. One is downstate, in Rockland County. The other lives in North Carolina. And I'm here in Albany
With this in mind, I began my quest for a tuxedo rental solution that would work for my geographically disparate men.
But I'm pretty particular about tuxedos...
Black tie dress should designate a special event.
There's a trend out there to make men's formal wear as un-special as possible. People are dressing up like Tommy Lee Jones in Men in Black and calling it a tux. Straight ties and notch lapels make a tux look like a plain old business suit. Straight ties on a tux are trendy. Nothing will date your wedding photos like a trendy tux.
A classic tux should have the following:
Formal shoes
Modern formal shoes include either patent-leather oxfords or velvet slippers (which Ralph Lauren offered last year).
Trousers with a grosgrain or satin stripe
These should have a plain (as opposed to cuffed) hem, and are worn somewhat higher than suit-pants, just below your belly button.
A French cuff shirt with a wing or lay-down collar
The most traditional shirt has pleats on the front, and uses studs in place of buttons. However, you can also wear a shirt with covered buttons and no pleats, which presents a sleek, clean look without dressing it down.
A jacket
These can be one of three colors: white/ivory (special rules apply) black, or midnight blue. Midnight blue is a blue so dark it looks black, and is both traditional and an elegant touch, but not as widely available. Also, they should be either one or two button, and have a shawl or peak lapel in either satin or grosgrain.
A bow tie
Black. Hand-tying is preferred, but tricky.
Waist coverings
Here we're talking about a waistcoat/vest, or a cummerbund. I like the cummerbund because of its classic look, and the fact that you can (and are supposed to) cinch in any extra man-body that might make your silhouette something less-than-dashing.

My search:
OK, so I was looking for a one-button, peak lapel, all black tux, with a wing collar and cummerbund. Because of my geography problem, I decided to try the Men's Wearhouse.
I was guided to a catalog which included exactly one option for me. One. Nearly everything else looked like a business suit disguised as a tux. There was however, a fine selection of colored "tuxedos," without lapels or collars, to help you achieve that pimptastic look you've always wanted.
They had exactly one of the style I picked and it was not my size. They had me try it on anyway, which was obviously useless. I asked about a few specific modifications which I normally need. They said they "don't do much tailoring for tuxes." So I was supposed to pick a jacket for my wedding having never tried it on, knowing that it was going to fit poorly, and nothing would be done about it? No.
Frustrated, I went to The Waldorf Tuxedo Company on Lark Street. First off, the gentleman who helped me actually knew what he was talking about. They didn't hand me a catalog. Instead, we went over to a mirror and I tried on several jackets until I found one that fit properly.
And guess what? Having groomsmen scattered about the universe is not uncommon -- and they have a plan to handle it. Apparently independent tuxedo shops have an informal "arrangement" with each other. My groomsmen walk into any independent tuxedo shop, have measurements taken by a professional, and have those measurements sent to Waldorf.
Speaking of measurements: it turns out that national chain I went to takes outseam measurements, not inseam measurements. Chances are the young lady who helped me would be squeamish about getting intimate enough to take an accurate inseam. The inseam measurement is a constant, while the outseam can vary, based on the cut of the trousers, and where they are worn.
In the end, I couldn't have been happier with the service and knowledge level of the staff at Waldorf, and I would recommend them to anyone having a wedding or other formal event.
One last thing to think about:
Waldorf sells used rental tuxes for $275 and new tuxes for $375, so if you can see wearing a tuxedo two or three times in the next year, it might make sense to buy.

Hi there. Comments have been closed for this item. Still have something to say? Contact us.