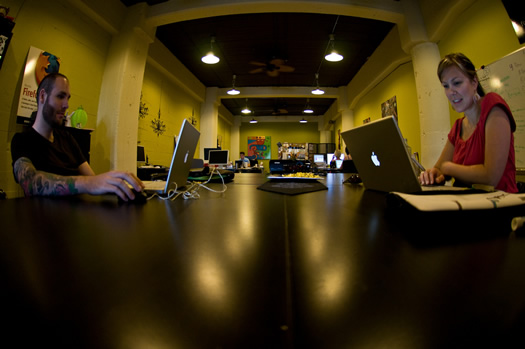 This could be useful: Laura Northrup recently asked if there were enough people in the Capital Region to support a coworking space:
I love the work that I do now, writ­ing for The Con­sumerist and other free­lanc­ing. Well, I love the sub­stance of it. And the flex­i­bil­ity. But I hate work­ing at home, and by myself.
This prob­a­bly has more to do with the gen­eral con­di­tion and atmos­phere of my home at the moment, but I don't think it changes mat­ters. I can go days at a time with­out actu­ally talk­ing to any­one, and con­nec­tions like that are what I miss.
Laura writes that she "would totally start [a coworking space] if I had any capita or any idea what the hell I was doing."
So, what's coworking? It's basically a space in which people rent desk space and share resources such as internet access, printing and conference rooms. There is, of course, a wiki all about coworking.
Laura's been kicking the idea around with Andrew Badera, who recently posted that this area could really use such space:
One major piece of the tech worker and tech industry growth puzzle that Tech Valley still falls flat on however is workspace. Office space is often underserved and overpriced for independent, often mobile tech professionals, or startups and other small businesses that may work in small and/or remote teams and have little or no need for a permanent office. And no, neither Panera nor Starbucks comes anywhere close to cutting it. What Albany needs, what Tech Valley and its population and ability to innovate would benefit from, are coworking spaces.
Laura's started a Facebook page to organize and gauge interest for a coworking space in the Capital Region.
Hi there. Comments have been closed for this item. Still have something to say? Contact us.