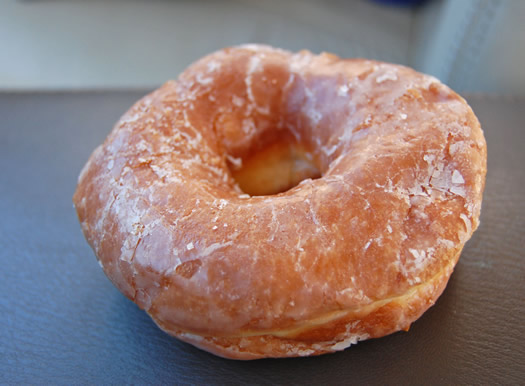 By Kalyn Belsha
After watching an episode of Donut Paradise on The Travel Channel, I had a major craving for a good, homemade ring-shaped cake fried in fat (yup, that is Merriam Webster's definition of a doughnut).
Knowing Dunkin' Donuts was just not going to cut it, I embarked on a two-day doughnut tour of Albany and Troy, eating my way through the best of the best bakeries around.
After the jump, check out whose doughnuts were able to satisfy my sweet tooth.
Schuyler Bakery
637 3rd Avenue, Watervliet (map)
Hours: Tues - Fri 5:00 am - 6:00 pm, Sat 5:00 am - 3:00 pm, closed Sun and Mon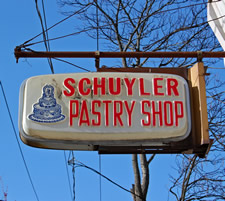 Its namesake may recall an historic American Revolution general, but the doughnuts at Schuyler in Watervliet are anything but old. In fact, the sweet treats are baked fresh daily and every doughnut is hand-cut (no machines here!). Open for 56 years, Schuyler Bakery uses many of the recipes that co-owners Jay and Bill Halayko's parents used when they first started the business.
The glazed doughnuts are the most popular, Jay says, and it's easy to tell why. Covered in sticky, sugary goodness on the top and bottom, the glazed doughnuts are not too sweet, and perfectly moist with a puffy inside. The establishment also sells Boston cream, powdered black raspberry jelly (the jelly comes from a vendor in Poughkeepsie that sells exclusively to Schuyler's), apple cider, lemon-filled and old-fashioned doughnuts, which were a bit plain for my taste but a bakery regular suggested taking one home and rolling it in sugar. Iced jelly-filled sticks with sprinkles, cinnamon rings and cinnamon jelly sticks also speckle the doughnut trays. And each one costs just 40 cents or $4.50 for a dozen. At that price, the local competition just couldn't keep up. "I'm the reason Krispy Kreme went out of business," says Jay.
A heads-up: there's no inside seating and Schuyler is cash-only.
Sherry Lynn's Gluten Free
836 Troy-Schenectady Road, Latham (map)
Hours: Mon - Wed 8:00 am - 5:00 pm, Thurs - Sat 8:00 am - 8:00 pm, closed Sun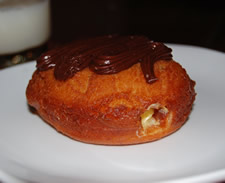 She may have just celebrated her one-year anniversary at her Latham location, but Sherry Lynn's doughnuts are no novice-made treat. I have a close friend who's gluten-intolerant, so I'd tasted other non-wheat bakery items and didn't have high hopes that these doughnuts would satisfy my craving. But I was wrong.
The shop has a decent variety of doughnuts priced at $1.50 a piece, including glazed, glazed blueberry jelly, plain, apple cider (usually on Friday and Saturday), and apple cider fritter balls (usually Monday through Thursday). On Fridays and Saturdays, they also make their famous Boston cream-filled doughnuts, which are a little pricier than the other doughnuts at $2.25 a piece, but well worth it. The outside has just the right amount of crisp while the inside is surprisingly dense. The cream itself has a nice thick consistency, but is not too sweet, and a swiggle of chocolate tops off the whole treat. If you didn't tell me, I'd never have known it was gluten-free. You can sit and enjoy your doughnut either inside or outside.
The Cookie Factory
520 Congress Street, Troy (map)
Hours: Tues - Sat 7:00 am - 7:00 pm, Sun 7:00 am - 5:00 pm, closed Mon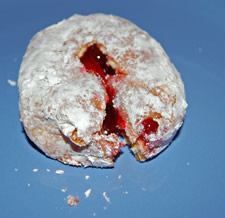 Don't let the name fool you, The Cookie Factory makes some of the best doughnuts around. The menu changes daily, but some of the regulars include: glazed, frosted strawberry jelly, powdered strawberry jelly, Boston cream, strawberry-frosted, apple cider, cherry-filled and chocolate glazed. The double-dipped doughnut, which is covered in glaze and a secret blend of cinnamon and other spices, runs out early in the day. Also on the menu: cinnamon twists and apple fritters. Each doughnut is just 60 cents, making these treats both affordable and delicious.
Because the staff told me the bakery was known for having the best glazed doughnuts, I had to try one. It was a light golden color with a thin glaze on both sides that tasted of a touch of honey. Amazingly light and airy, I finished this doughnut in about three bites. I can say the staff wasn't lying -- definitely the best glazed doughnut I tasted on the tour.
Bella Napoli
721 River Street, Troy (map)
Corner of Routes 9 and 155, Latham (map)
Hours: Mon - Sun 6:00 am - 10:00 pm (both locations)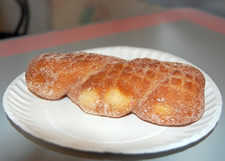 Since Bella Napoli was crowned the best bakery in the Capital Region by the Times Union last year, I was eager to put it to the test.
As Daniel B has pointed out, the doughnuts are made in the Troy location and trucked over to the Latham store, so if you want them extra fresh and hot, the Troy location is your best bet.
The variety is subject to change, but Bella Napoli usually carries glazed, chocolate-frosted, cinnamon sugar, Boston cream, blueberry jelly and powdered doughnuts. The bakery also has cinnamon sugar twists, cake doughnut twists and plain twists.
After another customer told me his friend, who's a cop, credits Bella Napoli with the best jelly doughnuts in town, I felt compelled to try one. I was definitely not disappointed -- the doughnut was softer than the jelly doughnut at The Cookie Factory and the blueberry filling tasted less like preserves and more like real jelly. Extra powdered sugar, too. The cinnamon twist had a nice light coating of cinnamon sugar, so it wasn't too sweet, and would be a good choice for anyone without a huge sweet tooth.
Inside seating is available at the Latham location for those who want to savor their doughnut sitting down. Doughnuts are 75 cents each.
Earlier on AOA: A cider donut from Lakeside evoked a moment of Autumn zen.
Say Something!
We'd really like you to take part in the conversation here at All Over Albany. But we do have a few rules here. Don't worry, they're easy. The first: be kind. The second: treat everyone else with the same respect you'd like to see in return. Cool? Great, post away. Comments are moderated so it might take a little while for your comment to show up. Thanks for being patient.