Mary Beth wrote us recently with a question about where to pick up Easter treats in the Capital Region.
For some, the best part about Easter is the basket delivered by the Easter Bunny. Might you consider a post where the Easter Bunny shops in the Capital District?
While we can't say we've ever met the Easter Bunny in person, we were happy to take one for the team and go candy shopping.
Mary Beth had some pretty good suggestions of her own, like Patty the Peppermint Bunny from Red Thread Confections (based in Slingerlands) and the bunnies at Krauses on Central Ave in Colonie. But she was looking for a few other ideas.
Here's what we found. We know there's a lot more, so let us know about your favorites.
Bunnies at the Gecko
The Chocolate Gecko on Colvin Ave in Albany seemed to have one of the best collections of chocolate bunnies we've seen. They've got all kinds of shapes and sizes in dark, milk and white chocolate.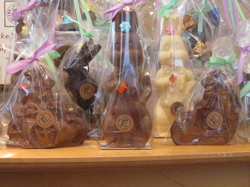 The Gecko will also make you a basket filled with bunnies, chocolate dipped peeps and other fun stuff like home made marshmallows in pretty pastels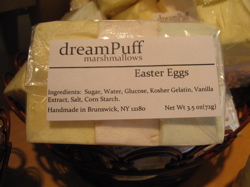 Gummy rabbits
Isn't it Sweet, on New Scotland in Albany (across from St. Peter's) has some fun, colorful stuff to brighten a basket or a dessert table. These cute little eggs with frosting bunnies and flowers inside caught our eye.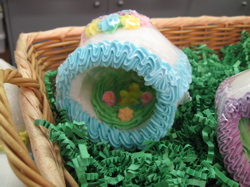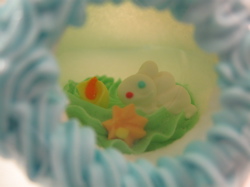 They were also the only place where we found gummy rabbits:
Vegan jelly beans
Here's something Mary Beth suggested for the vegan in your life: vegan jelly beans from the Honest Weight Food Coop*: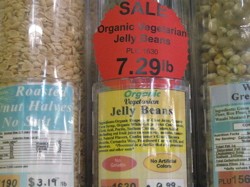 We tried them, and... well... if you're vegan and you really want a jelly bean, they're not bad. They hit the right note of sweetness, but they were a tad grainy for our taste.
Marzipan eggs
Saratoga Sweets, on Route 9 in Clifton Park, had one of the better selections of jelly beans we saw.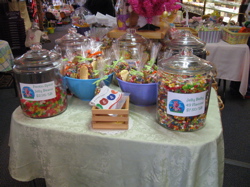 They also create personalized chocolate eggs with your choice of filling (chocolate, peanut butter, chocolate walnut, penuche or penuche nut).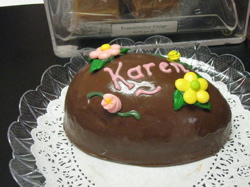 They also had marzipan eggs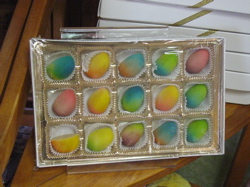 Crisan
Mary Beth mentioned the marzipan chicks at Crisan, but when we stopped by they hadn't put them out yet. We did find these little runaway bunny cakes:
We also found a list of stuff you can still order -- cakes, pastries, cookies and platters decorated with an Easter or spring theme.
OK, now we have to go brush our teeth.
* Yep, the Honest Food Co-op advertises on AOA.

Hi there. Comments have been closed for this item. Still have something to say? Contact us.