By Jessica Pasko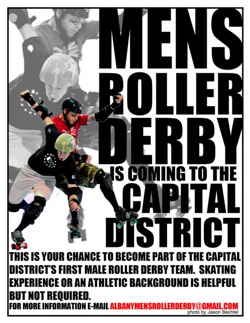 We've already got two women's roller derby teams in the Capital Region, so why not a men's team?
That's what George Dunckley, aka Museknückle wants to know.
The current Albany All Stars Roller Derby referee is looking to get a guys team going locally. Among other things, he's looking for a few good men.
Dunckley has been skating since September as a ref for the ladies, something his wife - a former AARSD player - helped him get into. But lately he's seen some men's derby on the Internets, and it's got him intrigued.
"I've decided to be an athlete in my old age," he laughs. (Eds. Note: He's 37.)
He wants to give the derby a shot himself - and he says he knows some other refs from AARSD and the Hellions of Troy who feel the same way.
Men's derby teams are starting to crop up around the country, including at least a dozen teams between Baltimore and Montreal. Regionally, there are teams in Northampton, Massachusetts, Connecticut and the Hudson Valley. And then there's the Big Apple's New York Shock Exchange.
The Men's Derby Coalition , while nowhere near as established as sister organization, the Women's Flat Track Derby Association, is looking into becoming a bigger, better organization with official rules and regulations. The organization even held a big conference in March in Northampton to try to build some momentum for men's derby rolling.
For now, the men's teams follow the same rules as WFTDA, but it's, well, a little rougher and more aggressive. Dunckley says that if women's roller derby is like NASCAR, then men's derby is more like demolition derby.
Of course, it's not easy putting together a brand-new men's derby team. A suitable practice space can cost anywhere from $60 to $500 an hour, and they have to be just right. He's also working on figuring out other costs and is actively recruiting members. So far there are about 6-10 people who seem really interested. He's also planning to start scouting local roller rinks more often to look for fresh meat. You need 14 players for a full roster, and he's hoping to get 25 interested men so they can hold actual bouts against one another.
Dunckley says he really likes the inclusive nature of roller derby as a sport, because it's something that almost anyone can get involved with. Men's teams men's teams can include anyone from former hockey players to people who just like to get dressed up.
Want to play? Or just find out more? Send an e-mail to albanymensrollerderby@gmail.com.
Like everything else these days, there's a Facebook group for it too.
Hi there. Comments have been closed for this item. Still have something to say? Contact us.