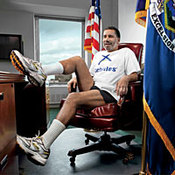 The Boston Phoenix has ranked David Paterson #12 on its list of the "100 Unsexiest Men of the Year." The governor's ranking is up (or, uh, down) from #81 last year. In the politics category, Paterson is between Mark Sanford and Rod Blagojevich.
The Phoenix comments that Paterson looks like "the offspring of Stevie Wonder and Mel Brooks." Ouch.
Tiger Woods was #1 in the rankings.
photo: Runner's World
Hi there. Comments have been closed for this item. Still have something to say? Contact us.