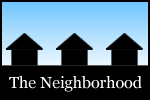 Among the topics in this most recent spin around the Capital Region's online neighborhood: the public good, spoilers, an elusive squirrel, doughnuts, ballots, red velvet cake, Five Guys, stylish cycling, beads, a baby shower, reuse and the post office.
Ed says a local radio station "does damage to the public good."
Homilies at Rob's church should come with spoiler warnings.
Bennett finally tracked down the elusive white squirrel.
Albany Jane was all over: Albany for sushi from Kitsu, Troy for doughnuts from Bella Napoli and Cohoes for sausage from Dnipro.
Daniel B put together a FussylittleBallot for the TU's best of survey.
Mr. Dave got a "sweet, succulent" red velvet cake from Coccadotts.
Jess got a lettuce-wrapped burger at Five Guys.
Carey is "the best-dressed cyclist in all of Saratoga."
Leah had a great time with her daughters at a bead store in Saratoga.
One of Kristi's readers asked about a good place for a baby shower.
That person bringing her own re-usable plate to the company cafeteria could be Melissa.
And Chuck got the hard sell at the post office.