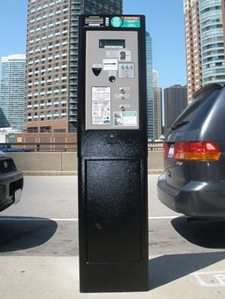 Troy announced today that parking meters will soon be installed at 400 spots downtown. Here are the stretches that will be metered:
8th Street between Sage and College Avenues (near EMPAC - map)
the Hedley District along River Street (map)
the Fifth Avenue lot
The intersection at 15th St & Sage Ave is already metered, according to spokesman Jeff Piro.
The meters will be the "pay and display" type -- so, you park, walk over to the box, pay for time and then display the receipt on the dash of your car. The city says technicians from the company supplying the meters will start installing poles Friday. The meters are expected to be up and running "no later than mid-May."
The meters will charge 25 cents for 15 minutes, according to Pirro. The city council voted to bond $500k for the meters last year. At the time, the city comptroller estimated they could bring in about $500k/year. [Troy Record]
Of the revenue from the meters, Harry Tutunjian said in a release: "we can reinvest some of this money back into downtown through infrastructure improvements and promoting economic development."
Saratoga Springs recently rejected the idea of installing parking meters downtown because of complaints from business owners. [Saratogian]
After the jump, a quick map of the soon-to-be-metered areas.
photo: CALE Parking USA

View Troy parking meters in a larger map
Hi there. Comments have been closed for this item. Still have something to say? Contact us.