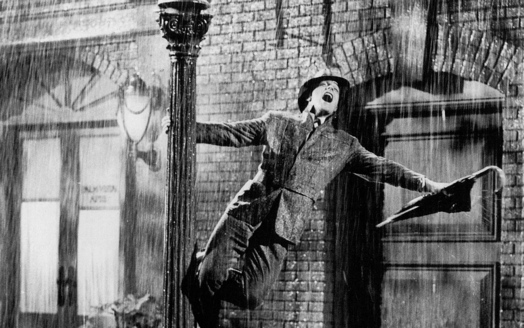 By Kaitlin Resler
Yes, yesterday was sunny and dry and lovely, but we're not out of the woods yet. It's early April, and we all know that April showers bring... raincoats, umbrellas, and makeshift rain-gear.
So that you don't end up using library books or newspapers as a shield against leaky skies, I took a quick jaunt around town last week to see if we couldn't dress a bit more like Paddington Bear while braving the waters.
After the jump, stylish rain gear for women and men.
Umbrellas
Arguably the most important part of the rain-prepared outfit. During that day of epic-wind and rain two weeks ago, I saw many a sad, disheveled umbrella turned inside out and abandoned on the side of the road. Umbrellas can be fun, cheeky, colorful, serious, and ridiculous. You just need to find one that goes with you.
H&M has bins of umbrellas in all variants of colors. There are intensely girly models (polka dots with ruffles, floral prints, pink hearts with bows), standard somber black, and respectable but interesting brollies with graphic orange patterns for those who wish to have fun, but not be too ridiculous lest the outfit being protected is a bit more serious.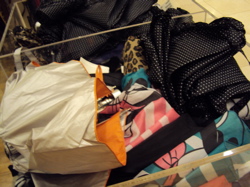 Umbrellas in the bins will set you back between $6-$9.95 (most around the latter) which isn't bad for something adorable. On the downside, they seem a bit flimsy and would probably flap about in the wind. The size is good -- they'll fit in most bags, so would work well as an emergency umbrella -- but do seem a bit teeny (no sharing) and might cover your head but your bag and elbows might be soggy.
I ended up snagging a bubble umbrella from Target.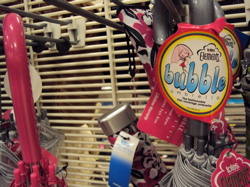 They're $16.99, but worth every little penny. If you like to have your own little alien pod to travel in, or like the mod look, this is your umbrella dream. I haven't been to a Target in the area that doesn't have them, and they come in silver, pink, and blue (the lining is colored). The advantage is that they're clear so you can see through them, but the edges come way down to your elbows. Hair, clothes, bag all stay dry. Plus it doesn't turn inside out in the wind. On the downside, the wind does seem to get sucked inside it and creates a wind-vortex.
Target also had these teeny umbrellas, that seemed particularly sturdy for their size.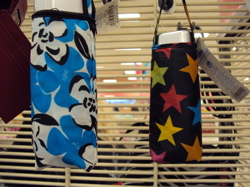 And lots of other sizes and colors: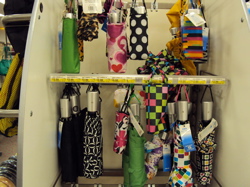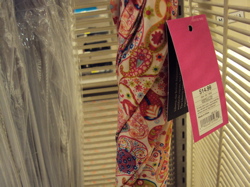 Raincoats
Shockingly hard to find. I'm not talking about a trench coat, a spring jacket, but an honest-to-goodness rain-slicker. Like winter coats, going all-out with rain gear might be the way to go, like those yellow numbers with hoods that kids in cartoons wear (or the Morton Salt Girl). H&M struck out, except for men.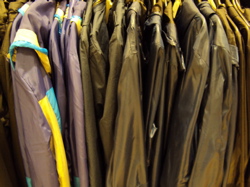 They had a few variants of rain-wear, these anorak type deals running $30-$40 in a nice variety of colors. They're not dressy, so guys would probably want to stick to a trench-coat for over regular work clothes, but slide on nicely over casual wear, and aren't too ostentatious in the rain department that one would look ridiculous once inside. I quite liked the guys versions in a darker color with lighter lining to bring a little color to a rainy outfit!
After coming up empty handed in most places, I headed (rather obviously, but it hadn't occurred to me until then) to L.L. Bean. Lots of weather gear, but I had to dig around for something in women's once again (men's offered another rain-ish jacket, on sale, that was a bit more structured than H&M and had a lining).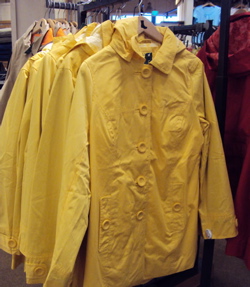 I spotted this yellow number -- with a sign boasting its rain-resistant properties (okay for drizzle, maybe not a monsoon though). And it's yellow! It also comes in black, blue, and red (the men's varieties also come in a bunch of colors, though more subdued).
Footwear
Generally I try to just make a go with it in sneakers, but occasionally wellies are the way to go. Shockingly, it seems they're a bit hard to spot at the moment -- sandals abound, but boots are scarce -- although Macy's has a pretty neat-o selection with a bunch on sale.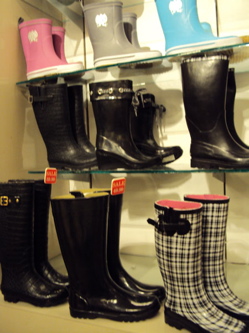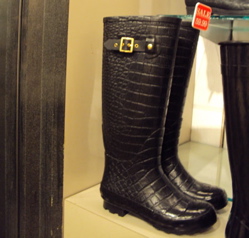 I quite liked the black patent ones with gold details, also on sale, but they have differing heights and colors for just about every outfit.
Say Something!
We'd really like you to take part in the conversation here at All Over Albany. But we do have a few rules here. Don't worry, they're easy. The first: be kind. The second: treat everyone else with the same respect you'd like to see in return. Cool? Great, post away. Comments are moderated so it might take a little while for your comment to show up. Thanks for being patient.