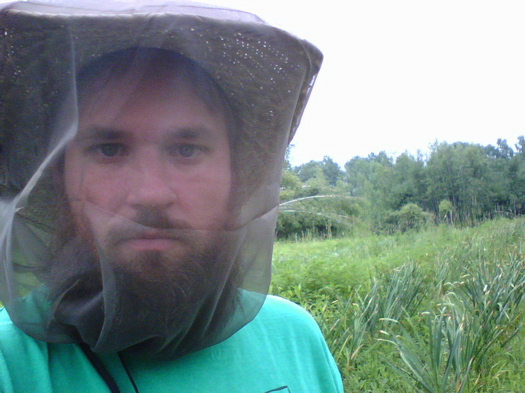 Every Monday night our friends at WEXT do this thing called My Exit -- local listeners get to come into the station and program an hour of music. So we thought it'd be fun to find out a little bit about these people and why they picked the songs on their play list.
Here's tonight's person:
Who:
Paul Coleman from Ballston Spa.
How would you describe your musical taste?
I've been voraciously consuming music since my college radio days at WHRW in Binghamton where we took free-form radio seriously. Â That said, my musical taste trends towards the dissonant, with a special love for anything that surprises me. I tend to value energy over technical skill when I have to make a choice. Â In one overused word... punk.
A few songs from Paul's show:

Yo La Tengo - Nothing to Hide
This was the song that inspired me to do a My Exit show. Â It popped up on the iPod while I was out planting garlic last fall and promptly became a favorite. Â It also led me to seek out other songs that made me work a little better and a little faster (which is my theme).
Silver Apples - Oscillations
Crazy swirling homemade synths and a drummer that based all of his beats on math equations. Â While there are probably a dozen bands that fit this description today, in 1969 there was only one. Â The first time I heard this was mind blowing.
Brian Eno - Dead Finks Don't Talk
This is a goofy song about I don't know what. Â Perhaps Eno was a mob enforcer. Â In any case, it keeps falling forward in a perpetual pratfall until the beautifully obnoxious end.
Matthew Carefully - Modest Birds - Matthew is one of those artists where you get that incredible confluence of energy and technical skill. Â The technical is there, but you don't necessarily notice it until you start digging into the layers...and every layer reveals a new treasure. Â Modest Birds is probably my favorite Matthew song to date, which I'm sure will be trumped by something on his next release.
Neutral Milk Hotel - Holland, 1945
This fuzz bomb from the late 90's is probably the best summation of my musical aesthetic.  It's a loud, ragged, sung from the heart song about Anne Frank and time machines and I believe every word spewing out from Jeff Mangum's mouth.  I'm on the old side of the people affected by this record...for some younger folk continuing the good work...check out Sgt. Dunbar & the Hobo Banned.
You can hear Paul's My Exit show tonight at 8 on 97.7 or at exit977.org.
Hi there. Comments have been closed for this item. Still have something to say? Contact us.