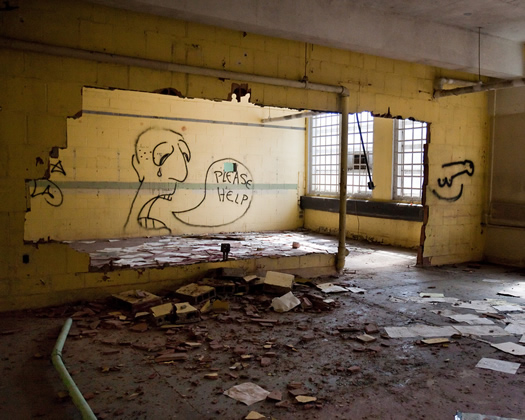 Sebastien and B's Urban Decay Tour of the (Greater) Capital Regionâ"¢ continues with two stops in the Hudson Valley. The crew hit up the The Holy Cross Campus of Pius XII Youth and Family Services in Rhinebeck, NY. From Sebastien's photo set page:
This is one of the most contemporary location we have visited so far. There was a lot to see: a large gymnasium, a swimming pool, an auditorium, a water tower, several basketball courts and playing fields, dorms, classrooms, etc. While it has been reclaimed by nature and vandals for almost a decade now, I couldn't shake the feeling that kids recently walked those corridors. American-style campus are very new to me, we don't quite have that kind of infrastructure in France: despite its troubled past, I quite liked this sprawling institution hidden in the woods, overlooking mountains and a small lake.
Here's his slideshow. And here's the slideshow from B and the set from Darren.
This trip also included a "bonus track" -- Bennett College in Millbrook, NY. As Sebastien writes on the photo set page:
Bennett College, also known as Bennett School for Girls, was a women's college founded in 1890, in Millbrook, NY. It became a junior college in the 1900s. At the time of its closing, enrollment was around 300 students. The college closed in 1978 after entering bankruptcy. ...
It feels important to me that this location is documented and remains in the collective memory. Unfortunately, local residents do not really see it that way. We got busted and kicked out by the cops pretty quickly.
Slideshows: Sebastien and Darren.
photo: Sebastien B
Hi there. Comments have been closed for this item. Still have something to say? Contact us.