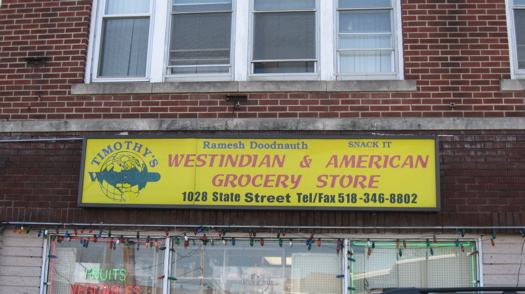 By Jessica Pasko
Back when I compiled the AOA Ethnic Market Compendium a commenter pointed out that I'd missed some great Guyanese markets in Schenectady.
Schenectady has a pretty big Guyanese population, one that former Mayor Albert Jurczynski worked to help develop . The city now has a chapter of the Guyanese American Association and a whole bunch of Guyanese markets.
I took a drive out to the Electric City yesterday to check some of them out for myself. This was both a good idea and a bad idea.
It was a bad idea because, as it turns out, a lot of the Guyanese markets in Schenectady are closed on Sundays. It was a good idea because Timothy's was open.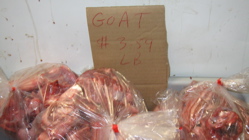 At Timothy's World American and West Indian Grocery Store, you'll find an amazing array of specialty meats and fish. I found goat meat for $3.59 a pound, along with whole roast ducks and chickens (with feet still attached.) Salt fish, whole frozen fish, lamb, sheep's brain, sheep hearts and pretty much every other sheep part you could think of. And, of course, porgy, snapper, dried cod and what appeared to be dried flounder. The sheer volume of meat was pretty impressive, although I found some of it a bit intimidating. This is probably because while I like some offal, I wouldn't have the first clue how to cook, say, sheep heart. But if you get the desire to, here's where you'll find it.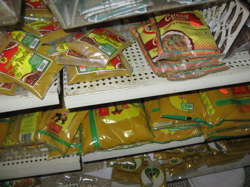 There's also a wide selection of spices and Goya products, including beans, sauces, mixes and things like plantain flour. I picked up some Guyana and West Indian lemonade, which is kind of like Sprite or another lemon-lime soda. I also went for some spicy dried chickpea snacks and something I can't quite identify called "dunks."
I'm no expert in Guyanese cuisine, but it seems to be a real mix of Indian, Latin and Caribbean influences (the country's history includes a wide mix of cultures). There are plenty of coconut products and curries, along with soy sauce, yucca, and plantains, along with items like long beans and hot peppers of various shapes and sizes. Roti, an unleavened flat bread, also plays a big role.
There's an extensive selection of large cooking pots and wok-like pans know as kaharee pots, along with large wooden machete-like tools that I can only guess are used for cooking in the biggest pots, which had a diameter of about 2-3 feet. I'm not sure I've ever had the need to make that much food, but if you do, Timothy's has the supplies for you.
And if you're looking for a place to pick up some goat meat and a cricket bat, this is your one stop shop.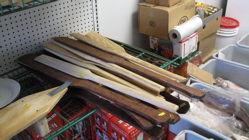 I also found belts, beauty supplies, a large selection of Guyana-themed shirts, bags, hats and key chains and Guyanese and West Indian DVD s and CDs.
Also check out:
Charlie's West Indian Bakery and Restaurant - It's a small Guyanese restaurant and bakery that appears to be located in an old tavern, and they sell a small selection of curries (including curried goat and chicken,) and a variety of baked goods, among other items.
I'm looking forward to a return trip to check out Shree West Indian and American Variety Shop.
Got another favorite Guyanese/West Indian (or any other ethnic) market? Share, please!
Find It
Timothy's World
1020 State St
Schenectady, NY 12307
Tel: 346-8802
Hi there. Comments have been closed for this item. Still have something to say? Contact us.