SUNY released the outline of its new strategic plan today (here's the flip-through brochure). Overall, the plan aims to set up SUNY to "drive New York's economy" and revitalize communities. It includes six "big ideas":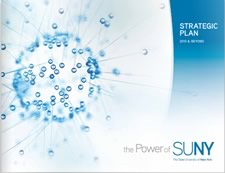 + A focus on entrepreneurialism, including mentoring and support for startups.
+ A "cradle to career" education pipeline. Initiatives include an effort to reduce new teacher attrition and more co-op jobs.
+ Focus on health care -- research and jobs.
+ Renewable energy technology
+ Increasing presence in local communities. Among the initiatives for this focus: more student volunteer work and "study abroad" opportunities within the state (well, Long Island is sort of like its own country).
Step one for the plan apparently was branding the university system to look like a biotech company (brochure cover on the right).
SUNY has 64 campuses and almost 465,000 students. About 18,000 of those students are at UAlbany.
Hi there. Comments have been closed for this item. Still have something to say? Contact us.