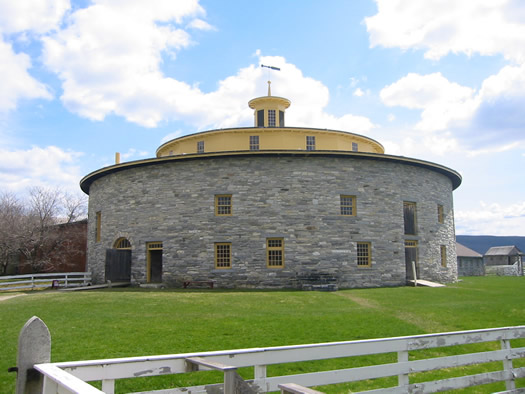 By Dawn Padfield
Growing up in Pennsylvania, every couple of years we took a compulsory school field trip to Amish Country, where we were transported back in time to find out how these traditional, religious communities lived. I get the sense the equivalent of that trip in this neck of the woods is a visit to the Hancock Shaker Village in Western Massachusetts.
Unfortunately, I didn't get chance to delve into too much of the history on my most recent visit because the real reason we were at the village was the baby animals.
And what's cuter than baby animals, you ask? Nothing, I say. And I have children.
(Yes, there are baby animals after the jump.)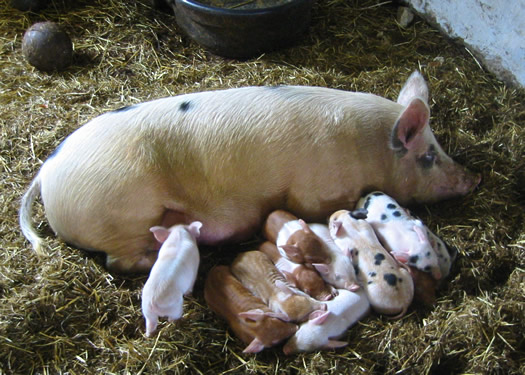 Just a short and scenic (40 minute) drive to Massachusetts brings you to the pastoral setting of the Hancock Shaker Village, where from now until April 25th you can get your fill of some really cute little bundles of feathers and fur. (After the 25th , you can still visit the farm, however, the animals will no longer be babies, and will therefore no longer be cute.)
The baby animals are housed in the unique Round Stone Barn where you are invited to climb right into the pens and pet the wide variety of animals including calves, kids, lambs, and piglets. (Note of caution: Watch where you step... these babies aren't potty trained.) The children can also enjoy running around with the free-range chickens, turkeys, and ducks in the fields surrounding the barn. And don't worry about keeping your hands clean... there's a hand sanitizer dispenser around every corner.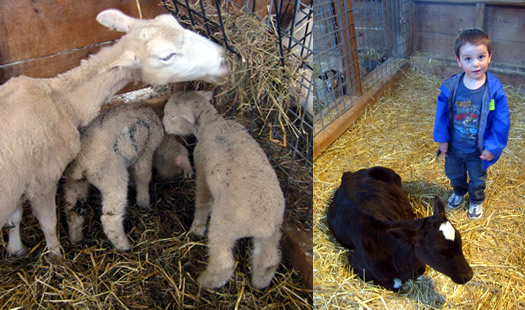 After wandering through the barn, you can head over to the Discovery Center where there is a whole other host of hands-on activities waiting for you and your family. Volunteer guides will walk you through weaving on a child-sized loom and spinning wool. You can also have a go at milking Mary Jane, a life size cow replica (water squirts out of her udders), donning some traditional Shaker fashions, and other arts and crafts. We must have spent another hour in here just looking around. There is also a schoolhouse (which we didn't get the chance to visit) where you can learn "how to behave like a good Shaker boy of girl."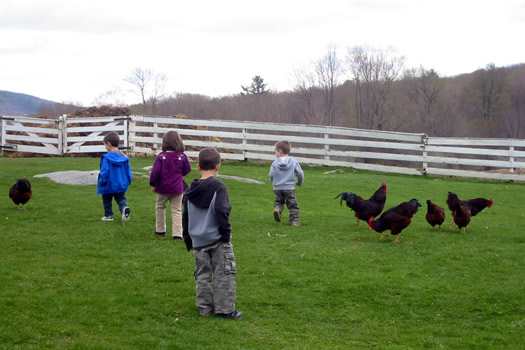 The grounds are expansive (20 acres) and perfect for picnicking, running around, hiking, and just enjoying the fresh country air and gardens. There is also a gift shop (a mandatory stop since you have to exit through there) and a small café serving a wide variety of Shaker-inspired lunches, take-out picnics and ice cream.
If you can manage it, the ideal time to visit the animals would be a weekday afternoon. We got there about 11:30 and missed all the school trips and midday nappers. According to the guides, the weekends can get pretty hectic, thereby limiting your petting opportunities. However, if that isn't possible, it would still be worth the visit.
I already intend to go back again to check out all the things I missed this time around. Baby animals can be very distracting.
10:00am - 4:00pm April 3 - May 28
10:00am - 5:00pm Memorial Day - October 31
Adults - $17.00
Youth 13-17 - $8
Children 12 and under - FREE
Hancock Shaker Village Members - FREE
Dawn is the author of Small-bany, a blog about stuff to do for kids and parents in the Capital Region.
Find It
Hancock Shaker Village
1843 West Housatonic St
Pittsfield, MA 01201
Hi there. Comments have been closed for this item. Still have something to say? Contact us.