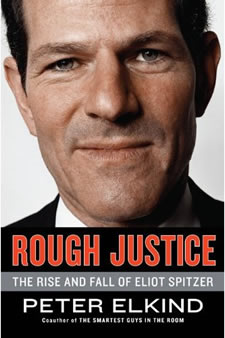 A soon-to-be published book about Eliot Spitzer includes some juicy details about the former governor's fall.
In Rough Justice, Peter Elkind reports that former AIG chairman Hank Greenberg and investment banker Ken Langone "remain the most obvious suspects" to have hired a detective to follow Spitzer looking for dirt. From an excerpt posted by Fortune:
Greenberg had a long-standing reputation for deploying clandestine methods; he had contacts in the CIA, and he had used detectives at AIG (AIG, Fortune 500). Langone had a palpable thirst for revenge. He had hired a private investigator to find political ammunition to use against Spitzer during the run-up to his gubernatorial campaign.
In high-level Wall Street circles, there are persistent rumblings that Langone hired someone to shadow Spitzer. Some of the rumblings come from those with ties to Langone; other people claim to have heard it in social settings directly from Greenberg. On July 17, 2009, Fortune writer James Bandler, interviewing Langone for a magazine profile of Greenberg, asked, Did you hire a gumshoe? "I'd say, 'No comment,' " Langone responded.
As you might expect, the book also contains some salacious details about Spitzer's, uh, consumption habits.
Elkind reports that Spitzer spent more $100k on prostitutes. He also writes that Spitzer ordered three encounters in one day. And Mario Cuomo reportedly said in 2006 that Spitzer was unfit to be governor because "he's a bad man." [NYT] [NY Post] [NY Post]
There's also a documentary in the works based on the book. Here's a clip:
A Marist poll out this week reports that 58 percent of respondents said Eliot Spitzer should not run for statewide office this year. But when asked if he should run at some point, only 48 percent say no.
Said Spitzer to Elkind in a recent interview: "I've never said I would never consider running for office again."
Hi there. Comments have been closed for this item. Still have something to say? Contact us.