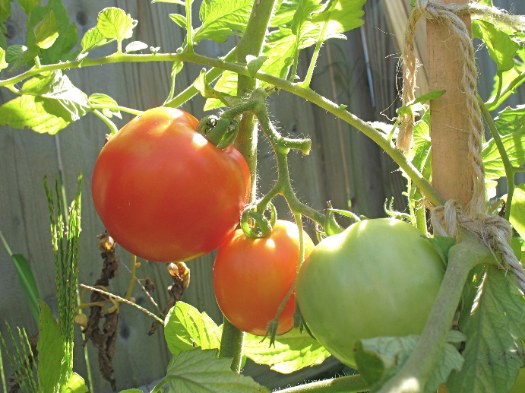 The recent burst of sunshine and the longer days got us thinking about playing around in the garden. But we don't want a repeat of the great tomato disaster of 2009 (OK, maybe that's over-dramatizing a bit -- but you know what we mean.)
So, what should we plant? What should we not bother with? And when should we get started?
We checked in with Larry Sombke -- landscape consultant, gardening book author, all-around gardening guru -- for a few pointers this year.
Here's the scoop -- or, you know, trowel...
What to plant
David Austin Roses
These are old-fashioned, large-bloomed, fragrant roses that have been modernized and updated to make them disease-free, low-maintenance and repeat bloomers. They are also able to withstand the cold winters we have around here without having to cover them with mounded leaves or dirt as you would for the dainty but popular hybrid tea roses. Imagine what roses were like in Jane Austen's gardens, or her neighbors' in Hampshire -- that's the look you'll get this look in David Austin Roses.
Clematis recta 'Purpurea,' Dictamnus albus purpureus and Baptisia australis
These are my cool perennial picks for 2010. These are being produced by local growers so ask your plant store to get them for you.
The Clematis recta 'Purpurea' is an old plant that disappeared for many years and is now again available. This Clematis forms a mound-like shrub with trailing qualities. It forms white, star-like flowers in June. I first saw this plant in the perennial beds created by Lyndon Miller at the New York Botanical Garden and knew then I had to have it.
Dictamnus, a.k.a. "gas plant" is a rugged 36-inch-tall shrubby perennial that produces pink flowers and fragrance around July 4th. I've tried this before and couldn't get it established, but now I have another chance to put one in the ground. Some say the strong fragrance of the plant is flammable, but who knows? It is deer resistant and likes a mostly sunny place.
Baptisia australis, the 2010 Perennial Plant Association's Plant of the Year is another shrubby perennial that produces blue flower spikes on a three to four foot tall bush that likes full sun and is deer resistant. What's not to like?
Hudson Valley Seed Library
The Hudson Valley Seed Library is a new vegetable seed company that sells regionally-adapted vegetable seeds in gift-quality seed packs featuring works designed by New York artists in order to celebrate the beauty of heirloom gardening. Most of their varieties are rooted in the history and soils of New York or are chosen because they do well here. Really nice!
What not to plant
Tomatoes. Remember all the problems we had last year? Also, don't grow corn, green beans or zucchini, either. In fact, let the growers in the farmer's markets grow all of that for you. They need the money. I say grow flowers this year and forget the vegetables. But if you've got your heart set on vegetables, see the Hudson Valley Seed Library above.
When to start
You want to start your own seeds indoors for tomatoes, peppers, basil, zinnia, marigolds and other tender annuals. Try starting some tuberous begonias from tubers, too. They make great potted plants for shady areas.
Don't plan to plant your little plants outdoors until Mother's Day or Memorial Day when the soil warms up enough. Try starting your seedlings indoors this year in CowPots, small planting pots fabricated from composted cow manure. Find them at Gardener's Supply.
____
By the way: If Larry's name sounds familiar, it's because when he's not gardening, he makes a some mean southwestern sauces.
Hi there. Comments have been closed for this item. Still have something to say? Contact us.