WCDB's Ethan Ullman recently interviewed Jimmy Fallon -- about knocking over soda machines on the downtown UAlbany campus, getting booed off the stage at Bogie's and working for Metroland: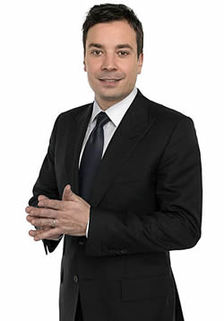 From a transcript on the Albany Student Press:
JF: If you spit salt water into the dollar thing that you put the dollars into, it's just ridiculous. I mean, me and my friends getting a mouthful of salt water and going: (spitting noise). Spitting in the dollar thing, trying to short out the machine.
So we broke into the downtown campus at SUNY and we went into some place that was -- I want to say there were like ten soda machines.
ASP: How many did you steal?
JF: Well, what happened was, it didn't work for some reason. So we were just spitting salt water and nothing worked, and so my friend tried to pull and shake the machine, and it fell on his leg.
So we were like, "Oh my god! What do we do?" And he was like, "Dude, it's broken, I know it's broken!" We're like, "Oh my gosh!" So we limped him out of there and we're running. It was so "Animal House," it was ridiculous. And then he laid in the street. I'll never forget this. It was snowing out, and he laid in the street in Western Avenue, and he called the cops and said that he got hit by a car.
That was so his parents wouldn't find out that he broke into SUNY and tried to spit. It's just the dumbest thing ever. But, that guy's a teacher now, I'm not kidding.
Here's part two.
Earlier on AOA: A whole bunch of items about Jimmy Fallon and his time in Albany
Hi there. Comments have been closed for this item. Still have something to say? Contact us.