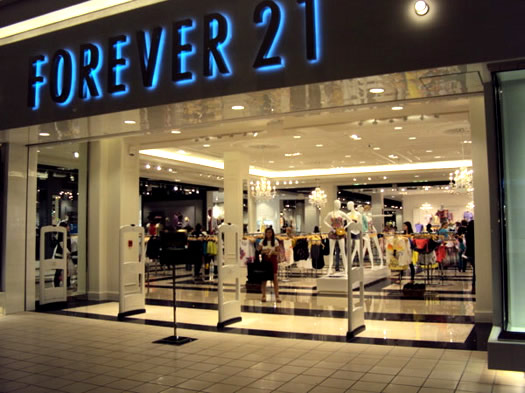 By Kaitlin Resler
After months of construction and teasing from a sign looming over the section of Crossgates that used to be Dick's, the new Forever21 opened on Friday.
I don't mean to make this sound super epic -- it's not exactly high-fashion heaven -- but it's the largest of the chain's stores on the East Coast. And for quick, trendy pieces and four-dollar sunglasses Forever21 is certainly a place to check out. And if you've never been, or haven't set foot inside for a long time, now it's definitely worth a look.
So I took one...
First, it's huge. It's monstrous. Enormous. Almost mind-bogglingly huge for a store of its kind. Suddenly the old location seems so tiny, even the larger Heritage 1981 (a sister store that was next door to the old Forever21).
From the front you can see racks of clothing extending all the way to the pink back wall, past lots of white, mirrors, and sparkling chandeliers. It's fun to walk through if only for the shiny interior, or to marvel at the amount of merchandise available.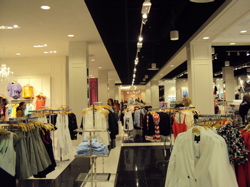 Forever21 was never exactly short on merchandise, but suddenly it seems as though they've been holding out on us. This new location boasts way, way, way more. Racks upon racks. If you thought the amount of stuff was overwhelming before, you'll be blown away now.
That said, the store is now much more easy to navigate and browse. The main aisle seems to house the trendiest pieces, architectural dresses with puffy shoulders, strange silk shorts (not shiny), feathers, slouchy tee-shirts and tiered skirts. I recommend working your way clockwise through the different rooms.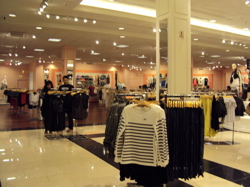 Each room is themed. Many stores are sectioned into specific areas (H&M for example has H&M trend, a section for more office-casual clothes, and the extremely trendy sections). Forever21 takes this to a grander scale and actually houses different collections in entire rooms. Not only are the clothes and racks less cramped than before, but shopping with a specific look or style in mind is now easier -- one can keep a trip to one room or two.
Heritage 1981 has moved right into the store, off to the left as you enter from the mall, while a men's section is located to the left. Yes, it's considerably smaller than the other rooms, but it was also much less crowded. It's not a loss either -- they carry a bunch of neat t-shirts (one with strange bicycle wheels was pretty cool), cardigans, and jackets in a range to suit many tastes and styles.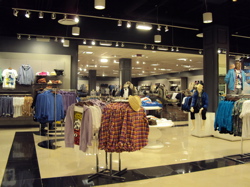 There is a section of shoes, a few bits of accessories scattered here and there, a space that seems set for lounge-wear and lingerie, and the little plastic shelves near the register offering tote-bags, makeup, hand-mirrors, socks and all manner of teeny things are still in place.
I'm sure there are more, but I only noticed two fitting rooms. I picked the less-crowded one, in what appears to be the more formal room, and got in quickly on Monday afternoon. Sleek and kind of dark, they're painted black and teal with white accents, which is actually quite nice after the bright lights and insane neons, pastels, and sequins of the rest of the store. I only tried on a few things, drawn in by lots of floral prints, and left with this pretty yellow blouse (priced at $15) that I'd had my eye on a few days before -- I was just waiting until the lines died down.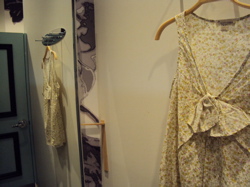 In summation: Gargantuan. Lots and lots of merchandise, choice, organized well. Sales associates were helpful and friendly -- even when harried and carrying eighty pounds of clothes to go back on the racks. And, as always, prices are pretty cheap.
Most of the items I grabbed (blouses, a few cotton dresses, some shorts and cardigans) all hovered between $11-$24, and smaller items like sunglasses around $5 (I grabbed a pair -- as someone who constantly sits on or looses them, a few bucks for a cute pair is as far as I'm willing to go). Shoes ring in at about $25. The downside, as it was downstairs, is that items cannot be returned for original tender -- only merchandise credit or exchange. But at low prices they're still a good bet for the newest on-trend items that won't suck your wallet dry, or the cheapest of basics.

Say Something!
We'd really like you to take part in the conversation here at All Over Albany. But we do have a few rules here. Don't worry, they're easy. The first: be kind. The second: treat everyone else with the same respect you'd like to see in return. Cool? Great, post away. Comments are moderated so it might take a little while for your comment to show up. Thanks for being patient.