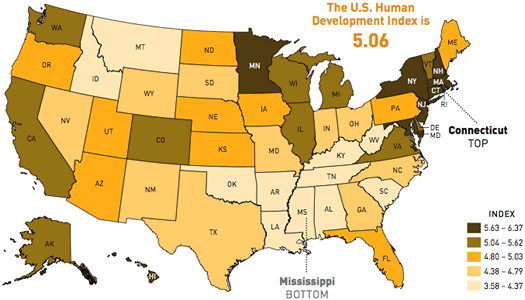 The American Human Development Project released its annual "Measure of America" report today. The survey ranks states and congressional districts according to a "human development index," which is based on factors such as life-expectancy, education and income.
As it happens, New York scores pretty well in the index -- it ranks #7 overall (Connecticut was #1) and the New York 14th Congressional District (Manhattan and Queens) ranked #1 among all congressional districts.
Here in the Capital Region, the NY 21st (Paul Tonko) ranked #148 nationally, and the NY 20th (Scott Murphy) #162. That's better than a little more than 60 percent of all the congressional districts.
The stat-by-stat breakdown for the two districts is after the jump.
By the way: According to the report, Asian-Americans in New Jersey live better than any other group in the nation.
image and stats: American Human Development Project
Hi there. Comments have been closed for this item. Still have something to say? Contact us.