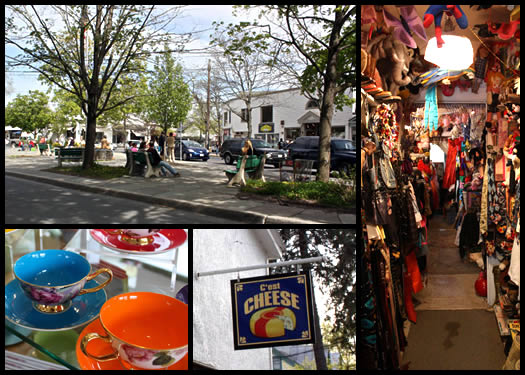 By Kaitlin Resler
Just in time for the weekend, with its promises of good weather, a shopaway guide for a morning in Woodstock.
It's one of the quickest day trips from the Capital Region -- even if it's just for dinner or that "get-out-of-town" feeling. And even if you don't leave with bags and bags of goodies, it's the perfect place to wander on a warm spring day.
The drive is surprisingly short -- less than an hour from Albany. Which means you can do it a few hours -- and a few shops -- at a time.
In no time you'll find yourself pulling onto the aptly named Tinker street, with its funny little shops and nooks to explore. There are several public lots scattered around the town. I tend to favor the one by the town hall, but they're all pretty close to the main shops, of which there is no shortage. Even I haven't checked them all out -- but here are just a few of my favorites from my most recent trip:
Marie Antoinette Curiosities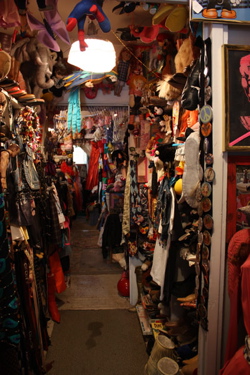 It's teeny-tiny, and totally packed with all manner of 'wearable art' and whimsical what-nots. Every inch is covered in something: vintage shoes, Barbie dolls, Spiderman action figures, antique telephones, petticoats, embellished denim jacks, monkey-toys that move and talk, mirrors, and beads. Organization isn't exactly key here, and it's the kind of place I'd mostly visit just to explore or get a dose of sparkle, but the proprietress/artist is exceptionally friendly, and even in the tiny space one could spend hours just looking.
Tinker Toys Too!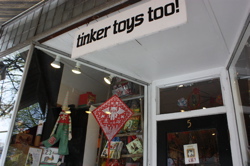 This is probably my favorite thing ever in Woodstock -- and not just because of the bucket of bubbles and wand stashed outside the store for passing pedestrians to enjoy. The store is mostly silly toys, both of the most innovative and vintage-ish, mixtures of perfect gifts for babies or small children to gag items like inflatable turkeys.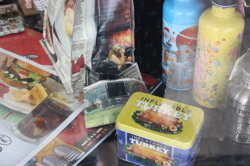 I especially like the teeny-weeny farm animals kept near the register, that cost pennies, and the Alice in Wonderland watch in the window (the seconds ring around the edge of the face in a dazzle of little cards!).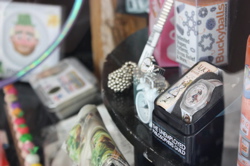 The Tea Shop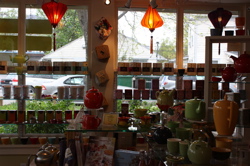 After dawdling around for the better part of the afternoon, checking out all the little shops with tie-dye, postcards, incense holders, and little cloth elephants on strings I headed to The Tea Shop. It's easy to find with its bright yellow sign, It's a charming little place, that makes me make grabby hands at all the teacups ($8-$28) and from which I leave with my arms full of tea.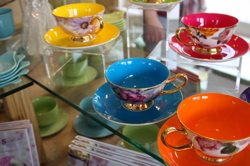 They sell only Harney & Sons (although several other little shops in the area do sell their own full-leaf blends) but the variety is dazzling, and in the prettiest little tins. I left with an apricot tea, chamomile in a little blue tin, and a tiny sample of some floral-infused sugar, but begrudgingly left behind the teacups.
Lunch
For a more hearty snack than tea, I like to scoop up a table at the Landau Grill since they have a nice patio and delicious burgers, but for a teeny snack or general food interest, you might want to check out C'est Cheese. With it's cheeky little sign and green door, it's worth a check out if only for that, but you'll probably end up leaving with a package for yourself. It's, also features awesome cheeses and panini which I haven't tried, but have been sorely tempted. Bonus: the little wine shop next door.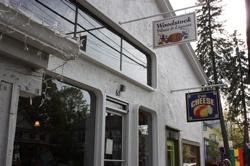 Afternoon browsing
If you're not quite ready to go home yet, here a few more favorites you might want to check out.
Catskill Art & Office Supply Ltd, for every manner of paper, card, brush and art thingy imaginable
The Golden Notebook, for book-browsing or--if you're a clearance skulker like me--for their sale section of art books in the back
Tibetan Arts and Crafts for little elephants on strings, scarves, warm little slippers, or a new piece of jewelry
Castaways for vintage pieces, both little hankies and clothing.
The amount of places to check out in Woodstock is overwhelming. Thankfully it's close enough to try something new each visit.
I'm planning another soon, so what are your favorites?
Hi there. Comments have been closed for this item. Still have something to say? Contact us.