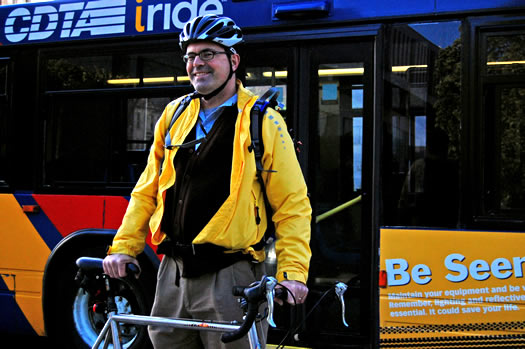 By Kalyn Belsha
Tom Benware might have passed you in traffic. On his bike. Which was on the side of a bus.
Tom appears on a CDTA bus as a part of a new initiative launched in April encouraging Capital Region motorists and cyclists to share the road.
In real life, the Delmar resident is a transportation guru, public transit advocate and 1,000-mile-a-year cyclist. He worked at the state Department of Transportation for 14 years and now he's the senior legislative analyst for the New York State Senate Transportation Committee. Just last week he helped advance new legislation that would require New York roads be designed with all users in mind - not just drivers.
I took a moment to talk with Tom about biking in the Capital Region, his favorite places to ride and what it's like to see yourself on the side of a bus.
So what exactly is the Capital Coexist initiative?
It's trying to emphasize that the road is for sharing, that bicycles are part of the highway and you need to pay attention to them. And vice versa, as a bicyclist you are part of the traffic, so you need to follow the rules of the road - like stopping at the stop sign - and be careful. It's not a joy ride. Even though I think most cyclists enjoy doing it, as do I, riding on the road takes a bit of concentration and a person needs to focus to keep himself and everybody else safe.
In the opening credits of Sex and the City, the main character gapes in surprise as a bus plastered with her face passes her by. Is that how you felt when you saw yourself on the side of the bus for the first time?
You know, it's a little strange. It's kind of like sometimes you cook something all day and it doesn't really taste good or look good to you. When I see myself in a picture I always think, "Jeez that looks kind of goofy," so there was a little bit of that, I suppose. But I'm happy to do it, of course.
You're really big on cycling. How many miles did you bike last year?
It was my personal best -- 1,193 miles. Coming to the Senate, I really started to commute in earnest, and that's 10 miles a day if you go both ways. And I very often turn the evening bike ride into a 15- or 20-[mile ride]. These days with family you can't go home, get on your gear and go for a 20-mile bike ride because you have stuff to do. So it's nice to commute and those miles add up rather quickly over a week.
Where in the local area would you say are your favorite places to bike?
I go south of Delmar up into Feura Bush and beyond. Out toward Rensselaerville there are countless rural roads. I often think how I should come back and do a map and record these rides because there's just numerous you can go on. It's only a 10-mile ride, but I also go from my house to Five Rivers - it's a DEC wildlife area.
Biking in the Capital Region is not always the easiest. Any advice to new bikers in the area?
I think the biggest thing I hear is people are afraid of traffic, afraid of riding in the road. And it's like anything - you have to be physically confident with your coordination and ability to look behind you. In the beginning, get on bike paths to get comfortable -- you have to get out there and get used to it. But it's not easy. I think the other thing is people are very, very used to getting around by car. We have the whole [mentality of] drive the car to the gym to get exercise.
Guilty as charged. Is there anything Albany could do to be more bike-friendly?
Portland always gets credited with being bicycle-friendly, 8 to 10 percent of their traffic is bicycle traffic. But they've done a lot with their infrastructure to make that more attractive. As you go through the streets of Portland you see, "Oh that's where the bikes go." You see bicycle striping, you see bicycle signals, bicycle signage. You don't really see that too well in Albany. You look out your office window, you see where the car goes, but you don't necessarily see where the bike goes.
So if this new legislation passes, how could that help Albany?
It would require that highways are designed for all users: automobiles, bicycles, pedestrians, transit users. It would have some reporting requirements -- the Department of Transportation [would] report on the progress in instituting that policy and the Senate Transportation Committee has oversight responsibilities over the Department of Transportation. Having a state law and having some responsibility on the part of the Legislature to make sure it works out is a [good] thing.
This interview has been edited and condensed.
Say Something!
We'd really like you to take part in the conversation here at All Over Albany. But we do have a few rules here. Don't worry, they're easy. The first: be kind. The second: treat everyone else with the same respect you'd like to see in return. Cool? Great, post away. Comments are moderated so it might take a little while for your comment to show up. Thanks for being patient.