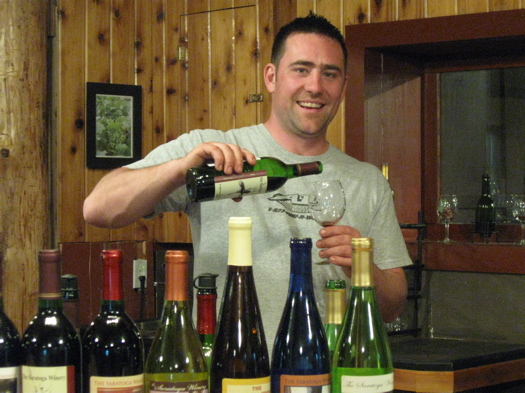 There's a saying in the wine business: "If you want to make a million dollars on a winery, start with 10 million."
But that doesn't scare Rich Nimmo.
OK, it scares him a little.
Rich and his wife Tara are the owners of The Saratoga Winery & Tasting Room, just outside of Saratoga Springs.
We met up with him at the tasting room last week to talk about the risky/awesome business of winemaking and opening the first winery in Saratoga.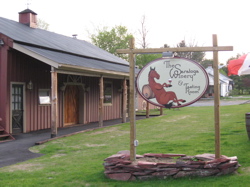 Why a winery?
My uncle owns a winery in Pennsylvania, and I spent every summer there as a kid. I always made wine for fun. But before I moved to Saratoga I worked with Local 1, the stagehands union in Manhattan. When I moved here, my wife Tara and I owned a power washing company -- we still do.
I never thought about starting a winery, but I made some wine for fun. At one point my wife and I were giving away about 500 bottles a year to our friends -- just playing around and makin' some wine. And somebody said, "Why don't you sell this stuff?" Before that it never really crossed our minds. We started playing with the idea of making wine but it was more of a dream.
A few months later I was diagnosed with cancer. It was bad... it was in my heart. The doctor told my wife I was going to die. I'm 32 right now -- so I was 30 then. We went down to Sloan-Kettering and I had a ton of surgeries. After one of the surgeries I guess I woke up and mumbled to my wife, "We're gonna do this winery."
You always say you'll wait until you have money or something, but it'll never happen. So we got everything we could together, cashed in everything we had and started making wine. On the first night the place was open we looked at each other and said, "Man... I hope we sell some wine."
And we did. We sold 99 bottles that night. No kidding. Everybody was singing.
That was back in October, and we've been selling ever since.
Saratoga is not a place people would think about a winery... you can't really grow grapes here, can you?
We don't grow the grapes here. We support local farmers. There's thousands of acres of grapes being grown in the Finger Lakes Region. We buy our grapes there. We get one grape from California. The rest come from the Finger Lakes, from farmers we know. They call us when the grapes are ready and we go out and taste them and drink the grape juice right there. If we like them, we load them up and we're making wine with them the same night.
We really couldn't believe Saratoga didn't already have a winery. With all the other things going on here, it's kind of the perfect place for one. Now we've got the trolley coming out here for tastings and events. It's great.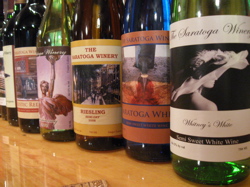 How many wines do you make?
We make 15 different wines. Half are traditional wines and the other half are melomel wines.
Melo what?
Melomel. They're organic wines made with just grapes and honey. They're traditional wines that date back to the 16th century.
My uncle got the recipe from an old farmer he knew in Pennsylvania. It took me years to get him to give it to me. They're sweet wines, but from honey, not residual sugar. And they don't have any added sulfides, so they're easier for people with sulfide allergies to drink. They're very different -- people taste them and come back and tell me they thought about them for a while. Even people who don't care for the flavor will say, "I understand it ... it's well made... but it's not my style." But a lot of people really like it. It's different. We want to be diverse.
Wine making seems like a really fun, but really risky business. What's the percentage of time you spend thinking "this is a great job," compared to the time you're... well... freaking out.
I love doing this. I love meeting the people who come out for the tastings. People who come here really want to be here. And we have guys in three piece suites tasting next to guys in flip flops and board shorts -- and they all want to talk about wine. They come in happy and they leave a little happier.
But I'm not gonna lie to you, it's stressful. Mostly because of the money you have to lay out.
A lot of wineries start out with millions of dollars in their wine. We started out with welllll under $100,000. Then you go to bed at night hoping to God you made good wine (laughs).
I put a deposit down on grapes today that we'll be able to drink two years from March. We go up and taste the grapes because if just a few are bad, it can skunk a whole batch. We taste the barrels about once a month while the wine is fermenting and it can turn bad during that time... and then turn back. But in between you're like, "Why am I doin' this?"
Back in August we tried some wine out of the stainless and it was good wine. We bottled it and got it back here and opened a bottle and it was bad. And I called everybody I knew and they said relax just leave it in the bottle for a while. Sure enough, a few months later we opened it up and it was good again. It just had a little bottle shock.
You're producing about 2,500 cases now -- what's the dream?
Right now we want to focus on making good wine. The power washing business is paying the bills and the wine money is going right back into the business. We don't want to be like "buy my wine so I can pay my bills."
But there are lots of opportunities -- there are some stores that just started carrying the wine, there's a Saratoga resort in Disney that's interested in carrying it. We're planning all kinds of events -- tastings with music on the weekends. On Friday nights we're bringing in these guys with an oven to make wood-fired pizzas.
I think the dream is just staying open right now.
If we're here in two years -- it worked. If not, I'll be drinkin' a lot of wine.

This interview has been edited and condensed.
A few photos of the tasting room: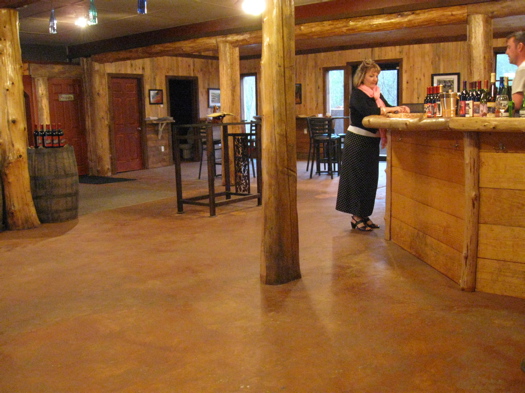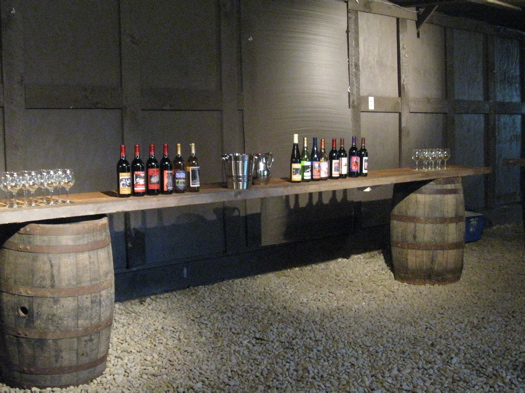 Actually, this is the room where they make the wine, but it's a neat space and it's set up for a party.
Find It
Saratoga Winery
462 Rte 29
Saratoga, NY 12020
Say Something!
We'd really like you to take part in the conversation here at All Over Albany. But we do have a few rules here. Don't worry, they're easy. The first: be kind. The second: treat everyone else with the same respect you'd like to see in return. Cool? Great, post away. Comments are moderated so it might take a little while for your comment to show up. Thanks for being patient.