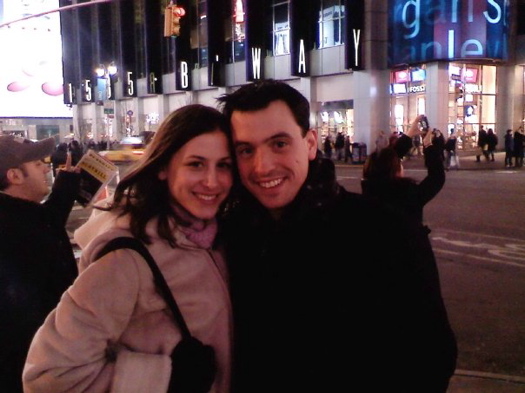 So yesterday we showed you the video of Matt Streifert's theatrical proposal to his girlfriend Alana Sangiacomo after Sunday's curtain call at The Fantasticks in Clifton Park. Well the post got sooo much attention that we're considering referring to them as Matlana. (We won't though. We promise.)
Anyway, since everybody loves a good proposal story, we caught up with Matt and Alana to ask about the details.
OK, Matt, how did you come up with this?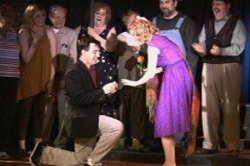 We're both performers and we met doing theater, so I knew I wanted to do something theatrical. I've had the basic idea for a while and this seemed to be a great opportunity to do it.
It was pretty elaborate, were you worried about pulling it off?
Yes and no. Of course there were plenty of things that could have gone wrong. The cast was very supportive. They were thrilled to help out. There was very little opportunity to rehearse. I only had one half-hour rehearsal with the onstage people. Other than that, everyone learned their parts using the YouTube videos that I posted. However, I trusted the people who were helping to make it work. I went into it knowing that it probably wouldn't be perfect, but knowing that it would still be great. There actually were a couple of "mistakes" but I don't think anyone even noticed!
Why "Your Song?"
It's just a romantic song that seemed to fit. I love the song and it worked very well with the scene. This is the 4th musical we've worked on together, but I didn't want to do anything from a show we'd done.
How did you manage to get through the show?
I thought I was going to have a hard time with that show, but somehow I managed to stay completely focused. It actually felt like my best performance so far. It didn't really hit me until the lights faded at the end of the last scene. That's when my stomach twisted. I didn't expect to be as nervous during the proposal as I was. You can hear it in the squeakiness of my voice. I could feel my hands and feet going numb and all I could think was "Don't pass out!"
But I made it.
Alana, did you have any idea what was up?
I had absolutely no idea. So many people had known and helped to create such a special moment and no one even hinted at the proposal happening. I was shocked and then completely emotional and excited.
What did you think when Matt started singing?
At first, I thought that he was going to sing "Happy Birthday." My birthday was Monday.
When did you figure it out?
It really hit me when I saw the cast of The Spitfire Grill -- the show that Matt and I met on-- up on stage.
What was with the Twinkies?
Haha... the Twinkies...
The little touches were nods to the different shows we've done together. Our friend Adrien was in "tick, tick... BOOM" with us and Twinkies were a reference to that show. Adrien is a close friend to both of us and I thought it would be a cute way to include him on the stage.
Did you always think you'd propose in such a grand manner?
I'm not sure I ever really thought about it, but for her, I knew I wanted it to be special.

Is Matt always such a romantic guy?
He is amazing. Always thoughtful and creative. Every day he shows me that he loves me.
You must have been pretty certain she'd say yes.
I had a pretty good idea that she would.
What have people's reactions been like?
I've been really surprised by how many people are interested in this. Lots of "aww's" and people telling me they cried. I'm glad people are enjoying it, but especially glad that the most important person enjoyed it. Everytime I see the video, the faces Alana makes are my favorite part. She's so cute.
Are guys like -- "Dude....what are you doing to me?"
I've gotten plenty of jokes about this, from women and men. Just because I took the theatrical route doesn't make it any better than other proposals. Many women would be mortified by that type of proposal. I just did what I thought would be the best for us.
Any show stoppers planned for the wedding?
We haven't gotten that far, but I'm sure there will be.
So, Matt -- are you worried that you've set the bar a little high?
You can never set the bar too high.
If you'd like to see the happy couple perform together, The Fantasticks is playing this weekend at The Not So Common Players Little Theater at Shenendahowa.

Say Something!
We'd really like you to take part in the conversation here at All Over Albany. But we do have a few rules here. Don't worry, they're easy. The first: be kind. The second: treat everyone else with the same respect you'd like to see in return. Cool? Great, post away. Comments are moderated so it might take a little while for your comment to show up. Thanks for being patient.