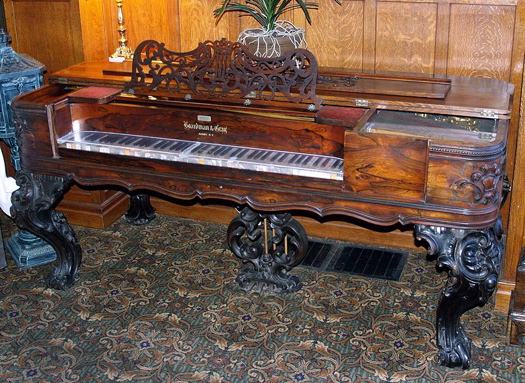 By Carl Johnson
In the mid 1800s, as a single collar factory in Troy blossomed into dozens, Albany became famous for manufacturing a product of its own -- pianos.
In an age when people made their own music, the growing middle class felt no home was complete without a piano. So when J. & H. Meacham began manufacturing pianos around 1829, it set off a boom that could have given Albany fair claim to the nickname of "Piano City."
How it began
John and Horace Meacham started it all around 1829. Their company sold a number of instruments -- including drums and woodwinds -- at their store at 84 State Street (the space now occupied by the IBM tower). Pianos had just achieved the modern form with their full iron frame, and Horace Meacham saw a growing demand for them. Meacham convinced John Osborn, a student of the new frame's inventor, to come to Albany from Boston, and build the instruments under the J.&H. Meacham name.
The competition
I.P. Cole, a rival State Street instrument dealer and vocal teacher, would not be outdone by Meacham, so he hired Burns, Ballentine & Co. to build pianos for his shop in 1835. With the Panic of 1836, Cole's business went to one of his backers, a wholesale grocer named William G. Boardman. Apparently the piano business was more interesting or more demanding than groceries. Boardman fully immersed himself in the piano business and called on James A. Gray to partner with him. In New York City, Gray had apprenticed in piano building and distinguished himself with a number of patents for improvements to the piano, both practical and fanciful, including the "Dolce Campana" attachment, one of a number of devices designed to make a piano sound like something else -- a desire that continues in the electronic keyboard age.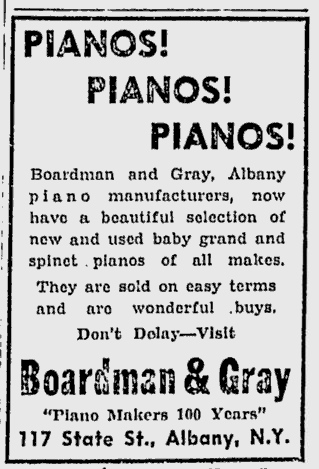 Boardman and Gray
The firm became Boardman & Gray in 1837, and quickly developed a national reputation as a source of affordable, decorative pianos. In 1857, Graham's Illustrated Magazine gushed, "While on this subject, we may say--pianissimo--that Boardman, Gray & Co.'s Albany pianos have, under [piano virtuoso Sigismond] Thalberg's hands, shown themselves to be instruments of wonderful power and sweetness, rivaling the far-famed chef d'oeuvre of Erard,"Â  the creator of the modern piano.
There were numerous other prominent piano-makers beside Meacham and Boardman & Gray: Grovesteen, Frickinger, Francis and Edward Burns, Henry Hazelton, William McCammon, and the firm of Marshall, James and Traver (later Marshall & Wendell) all made names for themselves as notable piano makers in Albany, nearly all of them locating somewhere along Broadway.
Most of these businesses did not outlast their founders. Only Boardman & Gray truly prospered. With a factory near the lumber district at Broadway and Dewitt streets, they opened a store at Albany's once-famous "old elm tree corner," the northwest corner of State and Pearl. (Where once grew an elm tree planted by Philip Livingston, signer of the Declaration of Independence, now grows only a Starbucks and a bank). Before the Civil War, they built one of the largest buildings in Albany, at the corner of Broadway and North Ferry, with some of the most modern equipment -- steam-powered saws, planers, lathes and polishers.  By 1860 they were turning out 25 pianos a week. Despite the latest "fireproof" construction, a massive fire broke out in mid-September 1860, destroying the building, all the machines and tools, and all but 70 of the 200 pianos inside.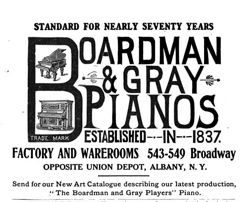 Boardman & Gray rebuilt at the same location (the "new" factory still stands, in part, on the corner of Broadway and North Ferry), but later moved to 239 North Pearl Street near Livingston. William Boardman left the firm in 1866, and James Gray, eventually made his son William a partner. In 1885, this factory also burned, taking several nearby buildings with it and killing three firemen. James Gray died just a few years later, in 1889, but William carried on and the company survived for decades more, moving the factory and showrooms to 543-549 Broadway, across from Union Station.
The fade
Piano making peaked in 1905, when 400,000 were made in the U.S. In the coming decades, radio and the phonograph changed music from something played in every family's parlor into a mostly passive form of entertainment. But Boardman & Gray, "Piano Makers 100 Years," were still building instruments at Jay and Eagle Streets and selling them just a couple of blocks away at 117 State St. as late as 1950. They were also selling electric organs, radios, and television sets. In 1957, their retail store had been taken over by Cluett & Sons, old-time piano dealers but not manufacturers, though Boardman's factory on Jay Street remained. Exactly when they went out of business isn't clear, but with them went the memory that Albany was once a hotbed of piano-making.
Photo: David Shankbone

Say Something!
We'd really like you to take part in the conversation here at All Over Albany. But we do have a few rules here. Don't worry, they're easy. The first: be kind. The second: treat everyone else with the same respect you'd like to see in return. Cool? Great, post away. Comments are moderated so it might take a little while for your comment to show up. Thanks for being patient.