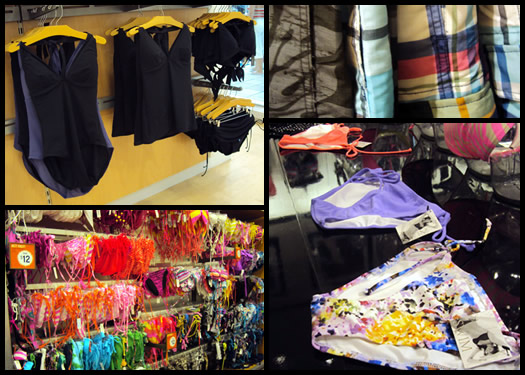 By Kaitlin Resler
Lately every day feels more and more like real-life summer than spring. Shedding our cardigans and one teeny layer after another, it becomes more and more obvious that we're eeking into bathing suit season. Whether it's for dips in the pool or weekend excursions to ponds, lakes, and oceans, the nagging want of a new suit pops up every summer, even if last year's faithful suit is just fine.
It's probably one of most people's least-favorite shopping trips, the bathing suit shop -- and it's certainly not a favorite of mine. But instead of trudging through the racks and feeling resentful of handing over my hard-earned pennies for the teeniest garment, I chose to run around as though a magnificent vacation was on the horizon -- even if it was just imaginary.
After the jump -- some of the suits I found for women and men.
H&M
They are definitely not short on suits! Lined up in the front of the store were all kinds of cuts and patterns for men and women.
Women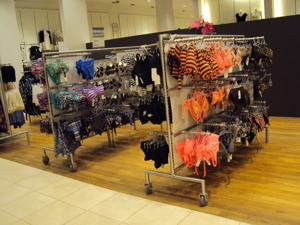 Prices ranged from around $10-$14 per piece for separates, while one-pieces clocked in around $20. Their collections of the latter were, as seems to be a trend, sparse but they're making an effort to offer one-pieces with some panache--a black number with gold exposed zippers and cut-out back for example--although they're outnumbered by the teeny-tinies.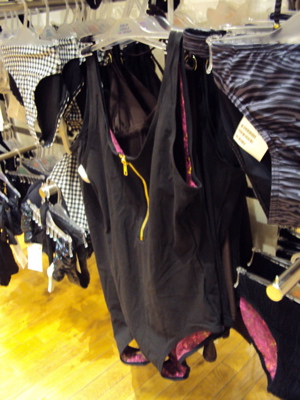 H&M probably had the best prints going on--polka-dots in blues and pinks, and a black and white gingham that was particularly adorable--so while their suits might not be the most durable, you're paying more for the novelty of the adorable, and they'll get you through the season. I did notice a concerted effort to include two-piece suits that aren't microscopic.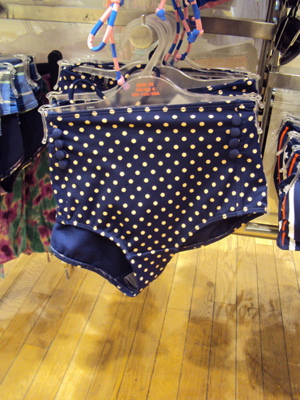 My favorite suits of theirs includes a pink and blue polka dotted bottom that is a bit higher-waisted and retro inspired, with a few buttons at the waist, offering much more coverage than most.
Men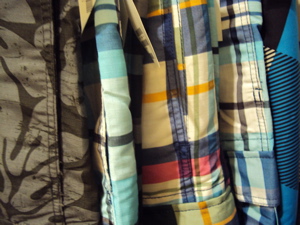 Much to my surprise, H&M featured quite a wide range men's suits. Hawaiian, floral, madras in various sizes, gingham, solid color with linings, ombre, and stripes are piled on the racks in little semblance of order--but the visual works.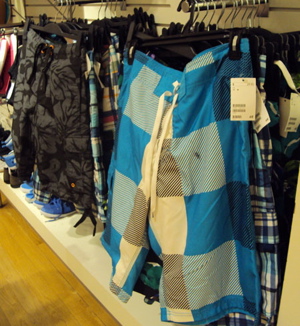 They also offer many cuts--longer board shorts, along with a mid length, and short are available all ranging between $20 and $30.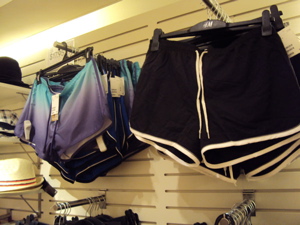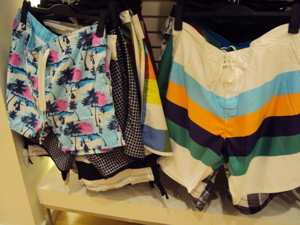 H&M nods again to some retro options with their prints and the various cuts available, which is nice to see in an area of men's clothing that seems to only offer one option in most stores.
Macy's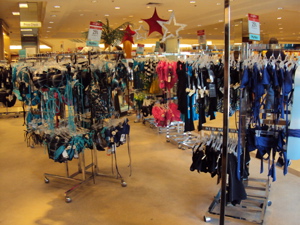 I didn't stay here long. Yes, their selection was large, but seemed to focus on two separate areas: teeny, tween-aged suits, and dowdy one pieces and tankinis that offered little for trendy prints or flattering cuts. Most of their suits tended to be a bit pricier as well, starting at $20 for each piece and going up from there. Their men's section was almost non-existent, hard-to-find and lackluster. (Note: I visited the Crossgates Macy's. "The Good Macy's" in Colonie Center may offer a better selection.)
Victoria's Secret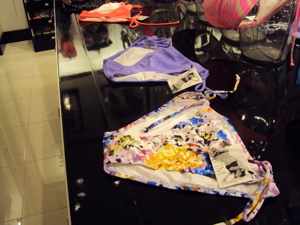 Eh. A quick run in here showed that they are carrying some suits, but the selection is very limited (no one-pieces -- although their fits do offer a 'full-seat coverage'.) Most of the suits they show online are great, more aware of support and the ability to swim in them, but are only available online and a quick query with a sales associate revealed that items from the web cannot be ordered through the store or returned there--they must be shipped back.
Gap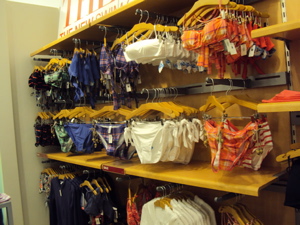 I almost passed right by Gap, but was drawn in by their floral window graphics. Unless I missed it, I found nothing for guys there in the way of swimsuits (unless you're searching for children's suits) but the 'body' store carried several styles of suits for women. Finally, someplace is carrying teeny floral prints, and offers some flattering cut one-pieces. Sadly, it appears they only come in black and dark purple, but the cut of the suits are refreshing and slim.
Old Navy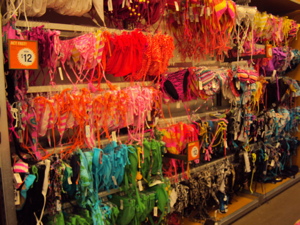 At the place to go for cheap flip-flops, I was met with a giant neon wall of suits.
Women
They're not short on variety of teeny two-pieces, although they do seem to offer some versions with a bit more coverage, and their variety of sizes is much more helpful than most. I found one or two racks of one-pieces, separate from the wall, in a variety of styles and sizes as well.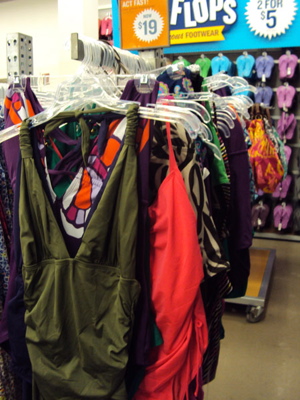 Old Navy seems to be attempting some more embellished and trendy one-pieces, although it's clear from the display that in general the concentration isn't on them. One pieces are up around $15-$20, but do seem quite sturdy in their materials, while the separates are priced are $12 a piece.
Men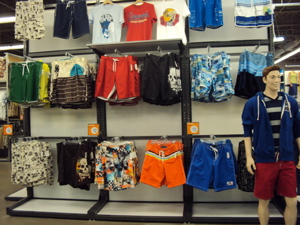 Old Navy offers less variety in style and cut for men than H&M, but makes up for it in prints and price. Their styles are pretty standard, mostly just board shorts, which are even styled on the mannequins with tees and jackets as regular shorts. Their men's shorts ring in at an awesome $12 per suit!
Also keep in mind:
If you're willing to spend a bit more, Sears in Colonie can order suits from Land's End for you through the store, as can J. Crew. Dick's and other sporting stores carry more swim-friendly suits (I have a speedo from about 6 years ago that, while a bit snug, still hasn't disintegrated via chlorine), although in general it seems that the variety available in-stores and asap stay in the realm of two-piece bikinis, while the few one-pieces are sequestered elsewhere in somewhat sad colors--at least for large chain stores. Guys seem to fare much better in this hunt. It's as though retailers are realizing the drought there has been for men's fun suits in the past few years!
Hi there. Comments have been closed for this item. Still have something to say? Contact us.