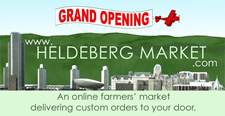 A new local online farmers market, called Heldeberg Market, launched today. Here's the setup:
On the market's website, you pick a basket of products available from farmers in the hill towns of Albany County -- everything from herbs to maple syrup to wool
Pay online
Orders submitted by Tuesday at midnight are delivered the Thursday of that week to either your workplace (during the day) or home (during the evening). There's free delivery for workplaces that have five or more orders.
The market's founder is environmental consultant Sarah Avery Gordon, who grew up on her parents' farm in Knox. From the site:
Moving to Albany's Center Square neighborhood in 2008, Sarah began working as a private environmental consultant for a variety of different local agencies and organizations, dealing with topics such as community conservation, agricultural environmental management, and investigating opportunities for new farmers' markets in Albany.
In January 2010, Sarah began marketing her family farm's products online, using social networking tools and website she had designed. This venture was largely successful. From there, Sarah began talking to additional farmers about helping them to market their products, looking to build synergy amongst local farmers in a central internet-based market place. The result was the Heldeberg Market.
The Heldeberg Market's paramount goal is to help farmers make their farm businesses viable by expanding their access to a broader customer base. Simultaneously, the Heldeberg Market seeks to foster stronger rural and regional economies by cultivating a closer relationship between the Heldeberg Hilltowns and the suburban and urban areas of Albany County. Additionally, the Heldeberg Market also aims to bring fresh local foods to Albany County customers in a convenient way that makes it easy for residents to "green" their lifestyles.
The market currently includes eight farms and says it's looking to add more.
Update: From Sarah Gordon's comment below:

Check back with the Heldeberg Market in late June when the local veggies come into season. Although there is not much for vegetables now, once the local harvest season gears up we will have a selection of more than 30 different vegetables, each in several varieties. Our farmers are expecting that these veggies will start hitting the market during the 3rd week of June.
(Thanks, Nathan!)
Hi there. Comments have been closed for this item. Still have something to say? Contact us.