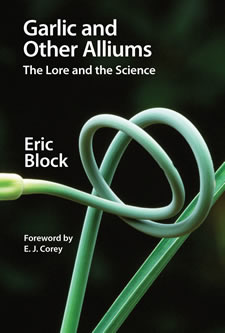 The work of UAlbany chemistry professor Eric Block is the main dish in a NYT piece today by Harold McGee, the creme de la creme of food science writers.
Block is an expert on alliums -- that is, plants such as onions and garlic. From McGee's piece:
"It's still astounding to me what happens when you cut or bite into an onion or a garlic clove," Dr. Block told me in a telephone conversation last month. "These plants originated in a very tough neighborhood, in Central Asia north of Afghanistan, and they evolved some serious chemical weapons to defend themselves."
Their sulfur-based defense systems give the alliums their distinctive flavors. The plants deploy them when their tissues are breached by biting, crushing or cutting. The chemicals are highly irritating, and discourage most creatures from coming back for seconds. They kill microbes and repel insects, and they damage the red blood cells of dogs and cats. Never feed a pet onions or garlic in any form. ...
Dr. Block explains that different alliums stockpile different sulfur chemicals to make their weapons, and this accounts for their varying flavors. The stockpiles themselves are inert, but when the plant's tissues are damaged, enzymes in the tissues quickly convert the sulfur compounds into reactive, stinging molecules.
There a bunch of interesting bits in the article -- whether you cook, or just eat.
Block wrote a recently-published book about alliums, Garlic and Other Alliums: The Lore and the Science. The book blurb says it "outlines the extensive history and the fascinating past and present uses of these plants."
Block co-authored a 2007 paper in the Archives of Internal Medicine that reported the neither raw garlic nor garlic supplements appeared to have clinically significant effects on cholesterol levels in people.
[via @ualbany]
Hi there. Comments have been closed for this item. Still have something to say? Contact us.