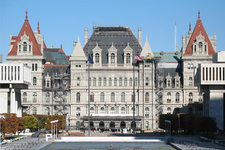 A few bits from the Siena Poll out today:
+ Sixty-five percent of respondents said they're against David Paterson's plan to lay off 10,000 state workers at the start of next year. A majority of every demographic opposes the layoffs (the closest split: 53 percent of men oppose).
+ When asked if they would like to see their current state senator re-elected, or have someone else get the spot, 50 percent of respondents said "someone else." (Tough talk, New York. Let's see how that turns out in November.)
+ Andrew Cuomo's favorability is down to 59 percent -- but he still crushes the rest of the field.
+ People still seem unsure about Kirsten Gillibrand (40 percent say they'd prefer "someone else" vs. 34 percent who say they'd like to see her elected) -- but check out the don't know/no opinions for her three potential Republican challengers: David Malpass (81), Bruce Blakeman (80), Joe DioGuardi (75).
+ Chuck Schumer's favorability is at 54 percent -- its lowest point ever.
The margin of error was +/- 3.4 percent. Here's a breakdown of the full results.
Hi there. Comments have been closed for this item. Still have something to say? Contact us.