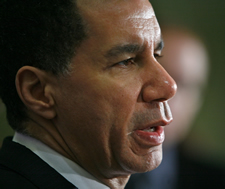 Appearing on the Capitol Pressroom today, David Paterson said he's considering state worker layoffs this year:
... what bothers me is, it's gnawing me, I don't think I should be setting up a layoff plan for the next governor to do. I think if you're going to layoffs, you do them yourself. And so I'm really considering altering [the layoff plan for next year] and starting the layoffs sooner... [in] 2010.
We need $250 million in workforce reductions and we have not come close to that. That's why we tried to do the furloughs, the court told us we couldn't do it. That's why we tried to get five days extra lag pay in negotiation, and the workers wouldn't do it. And so I think our hand is forced here.
Paterson said his administration is "still calculating" how many layoffs might be involved -- the number of early retirees would play a role in the number.
I don't want to lay people off ... This is just the unfortunate situation that I turned up in going back to a little over two years ago when I became governor that it's the worst economic times in the state's history and I've had to do things that go against what I have felt in my heart, the same way those Republican senators had to vote against how they feel about the extenders. But what I'm doing and what I think they're doing and other are doing here at the Capitol is we're trying to adjust to a crisis.
If Paterson tries to layoff state workers, the public employee unions will almost certainly sue because of the no-layoffs agreement they have with him.
Also: The state Senate passed a bill today that would institute a "Question Time with the Prime Minister" style session between the governor and the legislature each month. We'd watch that. [TU Cap Con]
Yep, the Capitol Pressroom advertises on AOA. That's where the the governor said it.
file photo via Paterson press images
Hi there. Comments have been closed for this item. Still have something to say? Contact us.